Business owners now receive a neat little recap at the end of the month from Google My Business (GMB). While most business owners are still very confused and have absolutely no idea what GMB is, most are even more confused by this highly inaccurate and misleading report.
Today, January 10, 2018, I received this email from a GMB page that I manage. I happened to own this company before selling it years ago and I know EXACTLY how people find the business as my life basically depended on it for many years. The email is titled "Performance on Google for December 2017".
Facts:
People use Google Maps for directions several times each day via the GMB page.
20 – 40 new people call the business every day. Many of these found the website organically, however at least100 people call via GMB.
What Google says:
People use Google Maps for directions twice per month from the GMB page.
Only 6 new people call via the GMB page.
Here's a screenshot of the email that I received: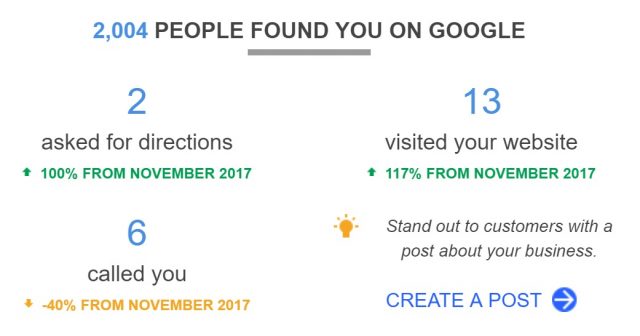 If you went by the data in the email, you would think the business is dying.
In reality, this company is the oldest, most prominent, highest ranked, most reviewed and highly rated business in its niche.
Why are the monthly Google My Business reports incorrect?
I have no idea why they are wrong or how to correct the problem. Between this, major spam, fake reviews and many more problems, it feel like Google is really letting the Local side of things slip away. There is zero communication coming out of Google My Business lately. I'm not sure if they are secretly working on something behind the scenes or if google plans to scrap Google My Business and replace it with Yelp soon or what…
Only one thing is for certain: it is safe (and strongly recommended) to completely ignore these monthly reports.