I spend a lot of time in Google and monitoring Google Local Search results. Anyways, today I fell down a rabbit hole looking at prison reviews on Google.
The first thing I noticed was hilarious reviews of prisoners who compared their stay in prison to that of a hotel or resort.
Then I saw reviews from loved ones who come to visit family members who are in the slammer.
Then I saw some interesting marketing.
Then I saw reviews of a women's prison in Ohio which obviously has major problems with their staff.
Below are my findings. Enjoy!
Hilarious Google Reviews of Prisons

Some of these are pretty funny, others are complaints by loved ones:
Maine State Prison Reviews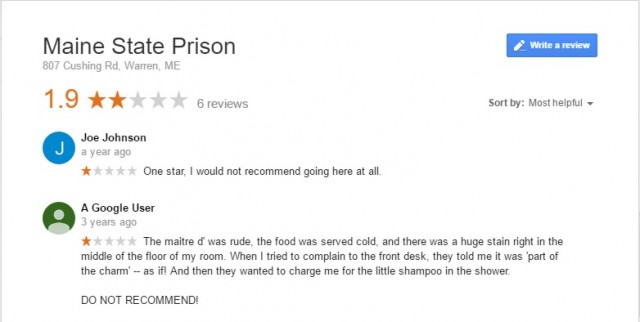 "Free food and board, but exercise facilities are limited – no pool. No spa facilities either. Minimum stay requirements are quite prohibitive. Twin beds only." – Paul Dixon

"The maitre d' was rude, the food was served cold, and there was a huge stain right in the middle of the floor of my room. When I tried to complain to the front desk, they told me it was 'part of the charm' — as if! And then they wanted to charge me for the little shampoo in the shower. DO NOT RECOMMEND!" – A Google User

Vernon C Bain Center Prison Reviews

AirBnB! lol
East Baton Rouge Parish Prison

Worst jail ever. Cops don't care about u food sucks and the building is just nasty and old
Arizona State Prison Review

Prison Review Marketing?
This one was interesting. I've been waiting to see someone market themselves via reviews.
On the Metropolitan Detention Center's reviews there is a well written review by Michael Santos:
Michael is the "Prison Professor" and a consultant and many other things. Neat. If I ever go to prison I'll give him a call!
Not so funny
The Ohio Reformatory for Women seems to have some issues. I read a lot of reviews and, while I can't be certain, some of these reviews appear to some sort of complaint. Are they legit? Google users complain of crooked staff who bring in drugs to the prison and treat the female inmates terribly. Of course, these reviewers could simply be making this up. However, a 30 second Google search did reveal this officer was sentenced to 24 years for multiple counts of sexual battery, then there were more allegations of misconduct, and then 4 more officers were fired. Wow. If a business were run like that in the private sector…..
There is a major drug problem in this prison. Correctional officers and visitors continue to bring in Suboxen and other illegal narcotics. The simple solution is to bring in drug dogs or have them sitting at the entrance of the prison, for which they will continue to refuse.
Continuous shakedowns and testing positive for illegal substances.
What a shame. They go to prison for doing all kinds of illegal activity, only to find more drugs…
This place is horrible. Some of the staff is more crooked than the inmates. The food is disgusting… A lot of the male gaurds treat these women terrible. They degrade them call them names you wouldn't believe it. I agree some of these women have committed horrible crimes and deserve what ever they get but for the most part these women have committed petty crimes and I do agree they should be punished, but the conditions at O.R.W. are sometimes deplorable.
Pray for these women.