Adding a business to Apple Maps is a straightforward, easy process. Or is it? What happens when Apple won't call your phone number to verify it?
iOS and iPhone users who go to visit your business may use Apple Maps. To list your business on Apple Maps, you simply go to mapsconnect.apple.com and follow the instructions.
Once you have entered your information in, Apple's computers are supposed to call you with a verification number. The problem is, sometimes that call never comes through.
This happened to me.
After prying and prodding I was able to enter my own cell phone number. Apple dialed the cell phone number and gave me a verification code. I entered the code but was then presented a message (and an email) saying that the business's information has been submitted for review. This is what the review screen looks like: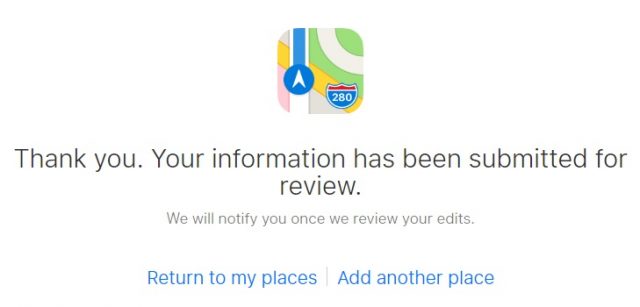 At this point, I felt like I was getting somewhere. But what if they reviewed the business and saw that the phone number I used was NOT for the business (in California) but for my cell phone (in North Carolina)?
I sent a reply email to the email address which had emailed me, mapsconnect-business@apple.com, and explained the situation. I informed them that the phone number I used was because their verification system was broken, and informed them of the correct phone number,easily verifiable on Yelp, Facebook, Google and the company home page which had been in business for well over a decade.
I received a reply that they would review it!
I waited for a reply for a week and it never came, but, I eventually opened up Apple Maps on an iPhone to discover that the business was now listed on Apple Maps with the correct information.
Recap
If the automatic call back verification system will not dial your business's phone number, use a cell phone to get it to the pending verification stage and email Apple asking for assistance.
There is no help button or phone number to reach out to Apple, making it extremely frustrating for any business owner attempting to add their business to Apple Maps and getting stuck trying to validate the phone number.
If this has happened to you, please feel free to contribute to this article in the comments section below.