I try not to watch the news much these days but this morning I was fiddling with my phone and brought up cnn.com.
Much to my surprise, I saw ad ad box with a scam on it! A site pretending to be Fox News:
I just wrote about this kind of thing a couple of weeks ago here: Legit news sites displaying fake news.
Not "Fake News", and how it works
I know what you are thinking, and no, this is not "fake news".
What happens is advertisers like CNN display ads on their site through third party services.
An advertiser in the ad network displays a legitimate-looking website. People click it and are deceived as they think they are on FoxNews.com, but in reality they are on a website pretending to be FoxNews.com.
In this case, the site prentending to be FoxNews.com was "s3.amazonaws.com/www2017/ed/zazazzazz22.html"
Screenshot:
People who think there is a miracle testosterone pill read the article. Some of the article reads:
Angela and Yoojin Kim, sisters from Korea, net the biggest deal in Shark Tank history as all 5 sharks teamed up to seed the company with an a staggering $2.5 million dollars! In just a short 6 months, their product has completely disrupted the Men's Health industry in Korean, and with the help of the Sharks, they are now ready to take over the world market.
As you can see, the article appears to be on a legitimate news website, and is apparently so awesome the Sharks on Shark Tank believe in it as well. Additionally, people may be led to believe that they haven't heard of it because it is just now "becoming available to people in the United States". Clever.
Scrolling down the page results in several links and calls to action to purchase "Ultimate Testo Explosion":
Now, I am not sure if the "scam" is by "Ultimate Testo Explosion" or an affiliate marketer, but that is beyond the scope of this article.
At the bottom of the article are fake comments designed to offer a "social proof" of sorts, as if people follow the "author" on a regular basis:
How does the scam work?
Once an unsuspecting user clicks through to the "free bottle", they are greeted with this page: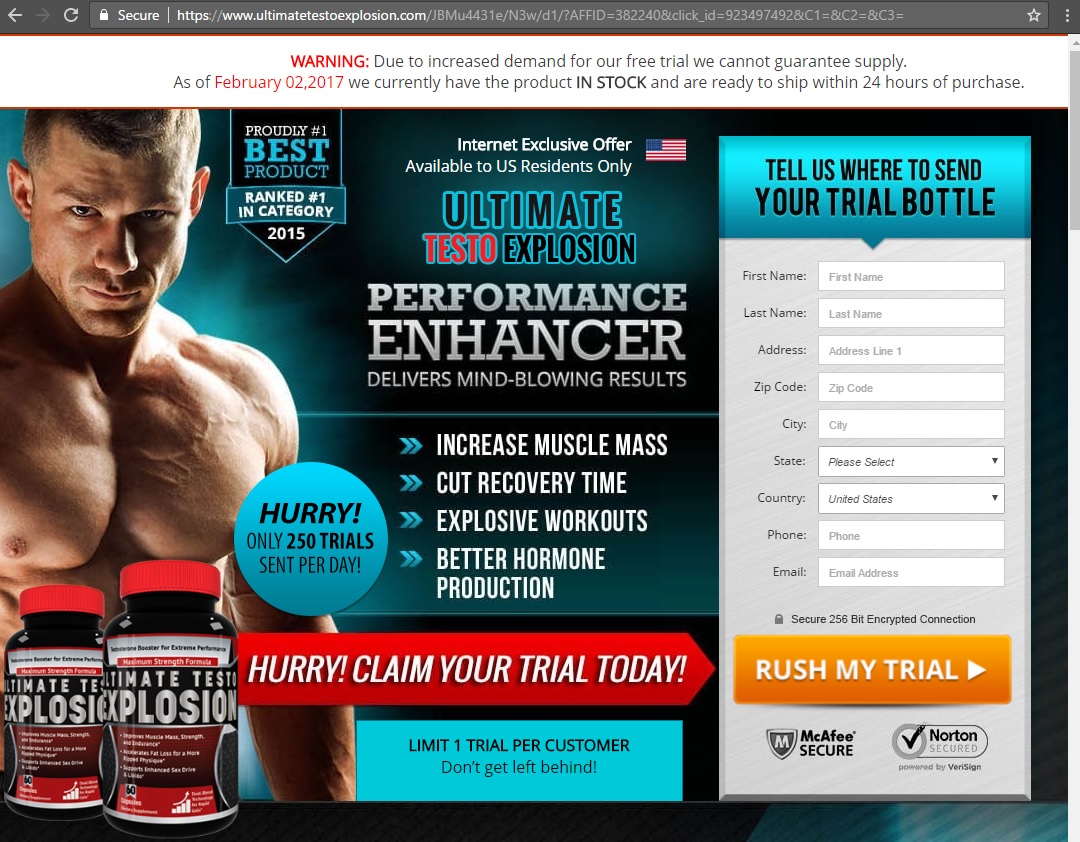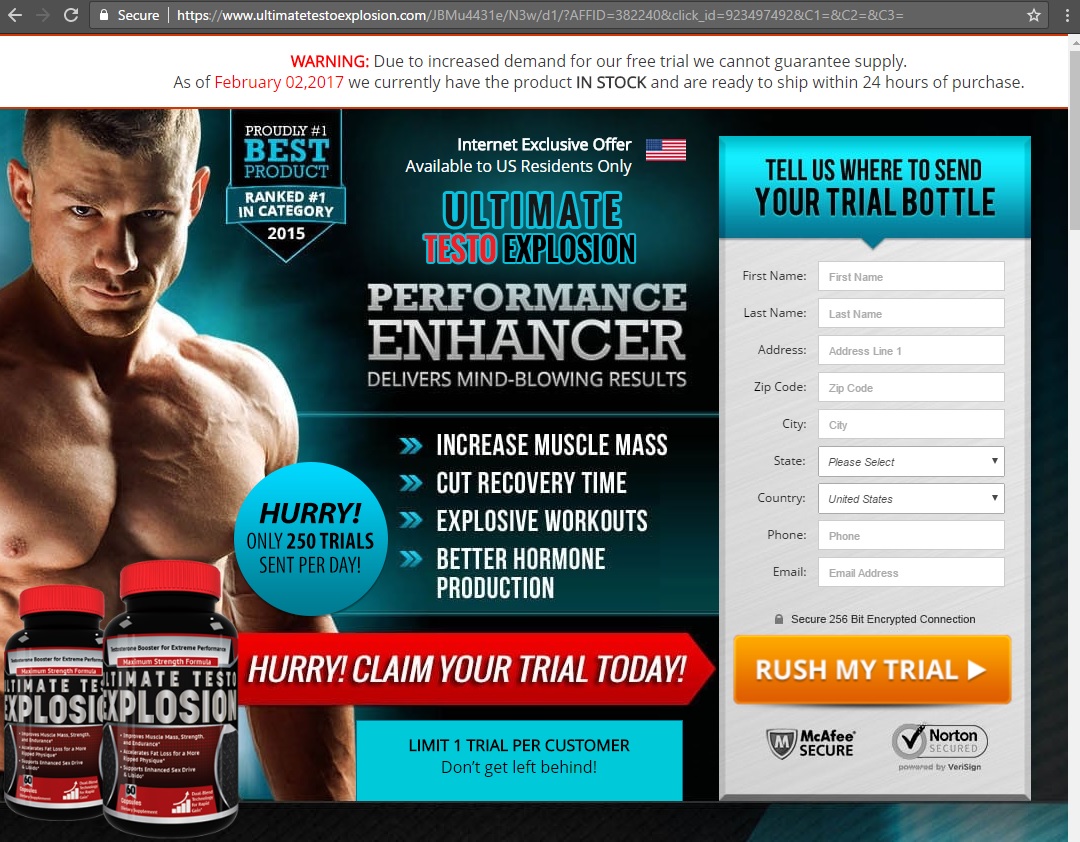 After filling out your information you are sent to a page with a 5 minute time limit. Better punch in that credit card number FAST! 🙂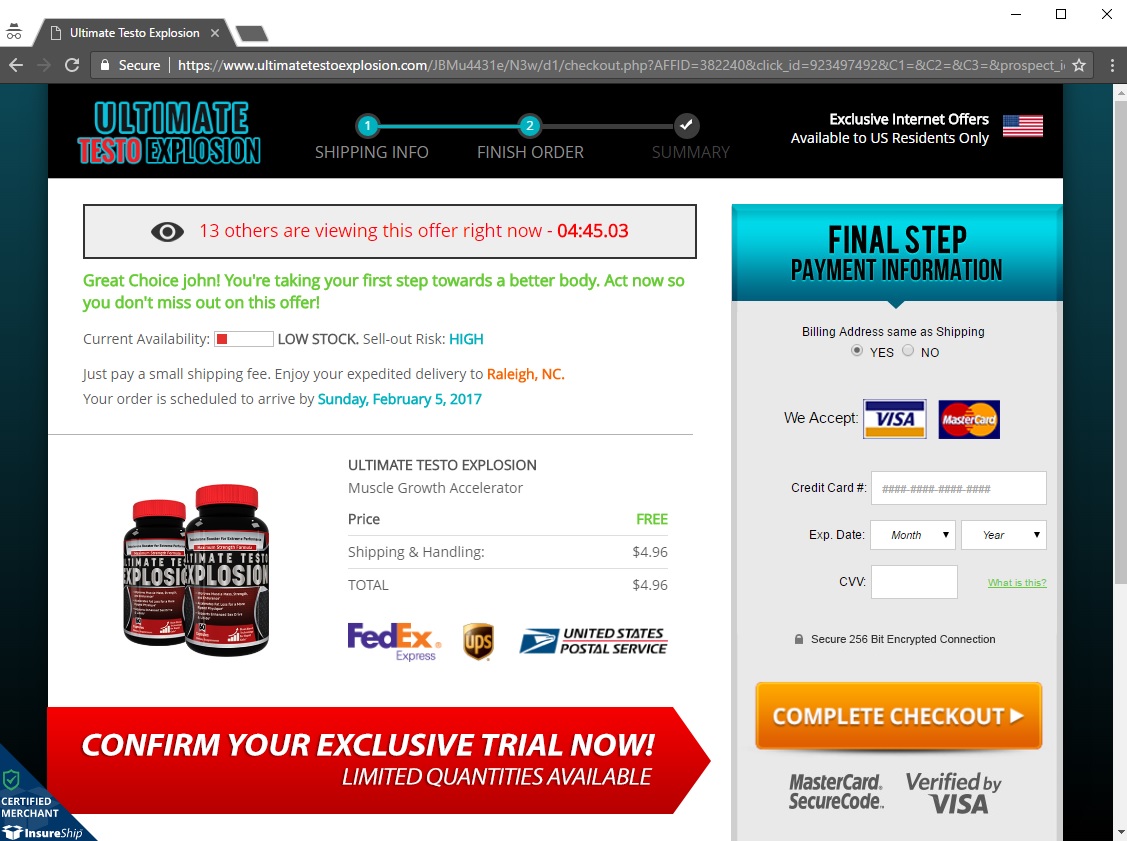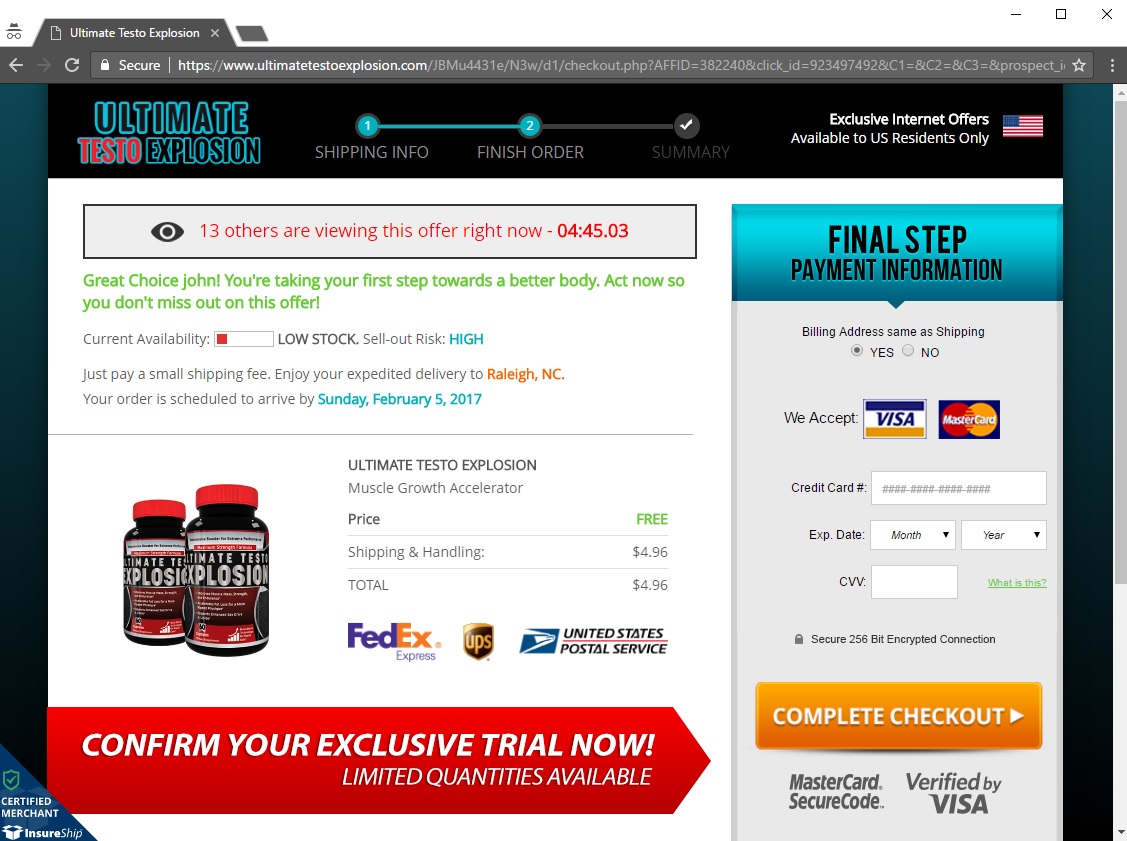 What people do not realize is down at the bottom of the page, below the checkout process, is some difficult to read text.
Almost anyone who orders their "exclusive trial" will soon find out that they are being charged $100/month to their credit card.
The fine print reads:
While we are confident that Ultimate Testo Explosion is the most effective and powerful testosterone- boosting supplement on the market today, this is NOT a risk-free trial offer. By placing an order you will pay $4.96 for shipping and will be shipped a 30 day supply of Ultimate Testo Explosion. You will have 14 days to try the product. 14 days from the date of purchase, you will be charged $98.49 and enrolled in our autoshipment program. If you cancel before the 14 day trial ends, you may be charged a $9.95 retention fee for keeping the product. After 14 days from the date of purchase, opened packages are not eligible for refunds, even if they are returned. After 30 days, all shipments are ineligible for refunds even if they are unopened. Every thirty days thereafter until you cancel, you will be billed a new 30 day supply at $98.49. Thus, until you cancel your subscription you will be billed $98.49 every 30 days starting 14 days after the initial purchase date. You can cancel your membership anytime by calling (866) 832- 9921 or emailing support@expertnutra.com.
Rest assured, CNN, Fox News, Shark Tank, Lori Greiner, Mark Cuban, Robert Herjavec, Kevin O'Leary, Daymond John, Barbara Corcoran or any other Sharks are probably not aware of this at all and I am sure none of them stand behind the hormone pills.
Were you tricked by this scam?
I know that some people don't want to admit it but I would like to hear your story. Please feel free to comment below anonymously. No credit card required. 🙂
Which Testosterone Supplements Actually Help?
Update September 27, 2017: After receiving numerous emails of men in their 40's, 50's, 60's and 70's asking me which testosterone supplements may help, I decided to do some research. There are indeed 2 very highly rated products for sale and one of them is the best selling in the USA. Best of all, they have thousands of legitimate reviews from verified users, and you can get them right from Amazon so there is no need to worry about mysterious charges appearing on your credit card.
Prime Labs Man's Testosterone Supplement
Buy Prime Labs Man's Testosterone Supplement on Amazon here.
At the time of this article, this supplement had 2,701 reviews with a 4.5 star rating and was $19.99 with free shipping for 60 caplets.
User "MN Mike" says:
"I think this supplement works very good. I am 51 yrs old so my testosterone is on the decline but I have been hitting the gym like a mad man lately so I purchased this. This supplement has helped me to some degree. To what degree I can't exactly say but I do notice a difference in the bed room."
Superior Labs Test Worx Testosterone Booster Supplement
Buy TEST WORx Testosterone Booster on Amazon here.
At the time of this article, this supplement had 5,638 customer reviews with a 4.5 star rating and was $59.95 for 60 capsules.
User "Limitless" says:
"I'm 62 and 100 pounds over weight, this is my third week on Test Worx I have lost 10 pounds, my energy levels are very good. I have muscle tone again, running on the treadmill, and riding bicycles, fast walking, and swimming! 10 minutes of floor exercise everyday. Will start weight training after I loose major poundage!!! Absolutely no bad side effects, every minute of the day is GOOD. I want to get down to 155 pounds. I'm 5′ 9.5″ My metabolism kicks in everyday now, and my body is burning fat at night while I sleep!"
Please note: These are indeed Amazon affiliate links, which means I get a small commission if someone goes to Amazon and buys them. I am not a doctor and have no idea if these will help anyone, but going off of what 8,500 other people had to say it appears that these pills are made in the USA, they are not crappy caffeine pills, and the benefits are claimed by the users of these products, not a fake webpage impersonating a genuine news website. So, you be the judge.