If your data was breached at Equifax, welcome to the club! After the breach, you've likely taken steps to freeze your credit at Equifax, or possibly at Experian and Transunion as well. To freeze or unfreeze it, you have to call in or visit the Equifax website, www.freeze.equifax.com, and enter your pin.
I just recently became all too familiar with this as I began recently seeing people applying for credit cards in my name all over the country.
While I am sitting here typing this, something just clicked in my head. The breach wasn't announced for months after it happened, and that is about when my identity theft began. I wonder if anyone else's identity was compromised at the same time. I documented the applications used, cards applied for and also the cities and states where my identity was stolen. If this happened to you in June 2017, please see my article about my identity theft and see if we share anything in common. This could get interesting.
Equifax Website Not Working
No, it is not just you. The Equifax website, which worked fine months ago, is not working. You enter all of your info just to see an unhelpful message which reads: "We are currently unable to service your request. Please try again later."
On Friday, September 15, 2017, the Equifax website was slow and unreachable. It would time out before it could complete my request to temporarily unfreeze my credit. I picked up the phone to unfreeze my credit, and the number returned a busy signal.
Maybe it was just me, but I suspect that tens of thousands of other people also experienced the same thing (actually, I'm just Googling around and I now see a report on CNN where they couldn't get through either).
I'm a bit of a night owl, so on September 18, 2017, I jumped onto the Equifax site at 2AM. I thought I had the system beat: I'd unfreeze my credit while most normal people were asleep. It was nice and smooth and ran fast. But I went through the process again of typing in all of my information, just to get this darn message AGAIN:
Note: To see if you're affected, you're supposed to go to: www.equifaxsecurity2017.com/potential-impact/ – but that website is broken too!!
Note: Checking could be a bad idea. Here's why.
Update September 18, 2017: Today I was able to get a bit further but am still unable to unfreeze my credit report:
Update: Sept 22, 2017. I tried once again my daily routine to lift my freeze. Today after entering my SSN and other information I was sent to this page below. I have no idea why Equifax would take all of my data online just to tell me I can't do what I need to do online, but that's what they did. At this point I have tried for 6 days to lift my freeze by repeatedly visiting the site, calling and tweeting them. There is no doubt in my mind that if this does not work I will not be able to write them via a paper letter.
Screenshot:
Equifax is also acting dumb on Twitter:
As mentioned above, Equifax is not helping people on Twitter. Whoever is running the @AskEquifax account is a very stupid person. I just randomly went there and the first thing I see is this:
Customer: I can't use your website because it is down.
Equifax: Ok, visit our website.
You can't make this stuff up.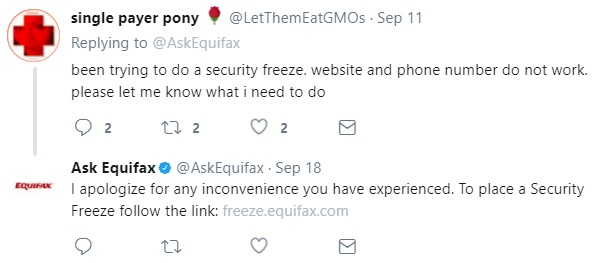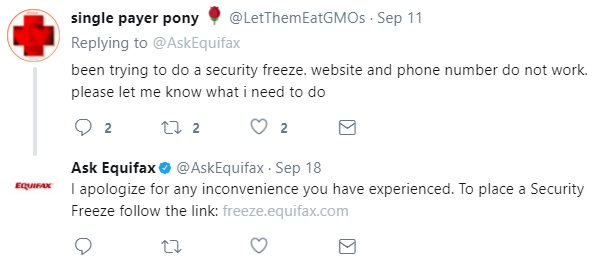 Additionally, Equifax's Twitter accounts have been tricked into sending people to websites that are not Equifax websites.
Can I Unfreeze my Equifax Credit Report over the phone?
To temporarily lift the freeze on your credit, call 1-800-685-1111, Option #3. Well, that's what I tried to do, but the message said: Sorry, we are unable to do this at this time, please visit www.freeze.equifax.com.
So, the number is busy during business hours, and doesn't work at night. I guess people will just stop buying houses and cars?
Has the Equifax website been not working for you?
At this point, I am unable to unfreeze my credit. That sucks, but at least people aren't stealing my identity. I do have a 7yr free freeze. But shouldn't there always be a freeze? I never asked Equifax to monitor my credit, and they obviously can't run a simple website or answer a telephone, let alone keep my information secure.
As someone who spent many years in IT, I am not surprised by the data breach. As someone who works on websites for a living, I can't believe their sites are not working. As a business owner, I'm shocked nobody can answer the phone. As someone who can't unlock their credit, I am not happy. There are obviously some very, very big problems at Experian across the board.
If the Equifax website is down for you too, please tell us about it in the comments below.