Hurricane Florence is dumping unprecedented amounts of water all over North Carolina and I am afraid that many people have no idea how much danger they're in.
Fayetteville, NC:
Using the website water.weather.gov, we can clearly see that the Little River at Manchester (near Fayetville) is predicted to break the previous record, set by Hurricane Matthew. There's a mandatory evacuation order in place, however it was just announced September 15th. With little time to prepare and for some people without power, some people may not get the message or decide to "tough it out". Anyhow, using the weather.gov site we can see by the river's gauges that the river is going to flood like it never has before on September 16, 2018!!!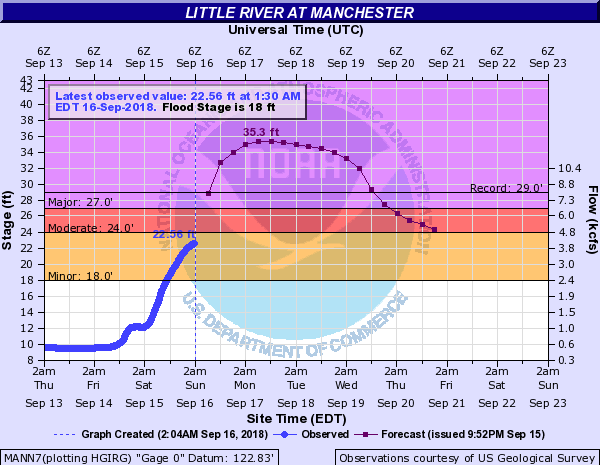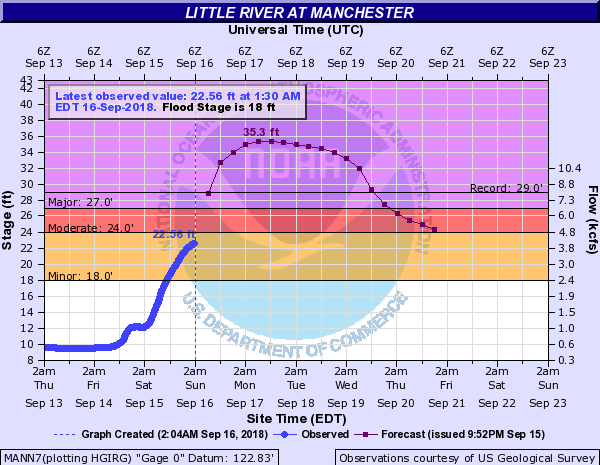 The Cape Fear River in Fayetville is supposedly going to flood worse than it did in October 2016 (Matthew) (this water guage is located at Person St):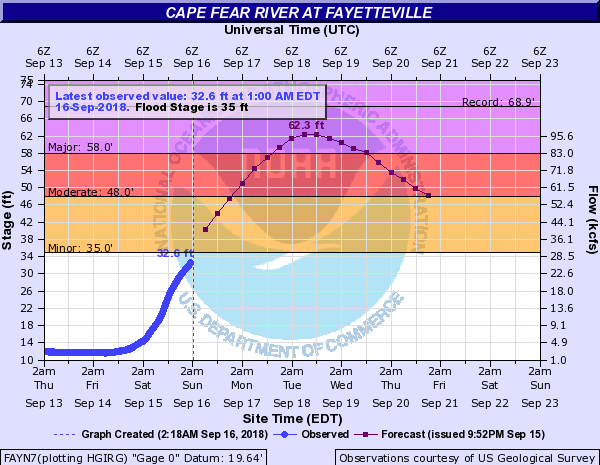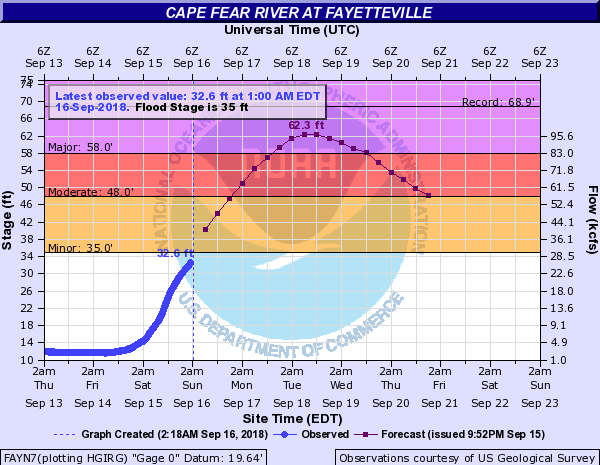 The estimate shows 62′ (major flooding) peaking at 2AM Tuesday, September 18, 2018. Who knows what it will get to with Florence moving so slow.
As per the weather.gov site, here's what happens at various flood stages:
72 The river will spread to a width of up to 2 miles, with several thousand structures threatened.
69 The city of Fayetteville begins to flood and up to one hundred and fifty homes would be threatened. At this stage the river widens to a mile or more in some places.
64 Several thousand acres of land and hundreds of structures on both sides of the river will be flooded. Water reaches the under-clearance of the downstream railroad trestle. Downstream about 2 miles, the river will spread to a width of approximately 1 mile.
60 Water begins to bypass the left end of the NC24 bridge for several hundred yards. Two miles downstream, the left bank widens to 1000 feet and to a depth of several feet.
58 Major flood stage. The right bank widens to several hundred feet and there is serious flooding of downstream structures.
50 There is significant overflow on the left bank about 2 miles downstream of the NC24 bridge.
48 Moderate flood stage. The upper parking areas at Riverside Bait and Tackle are flooded. There is significant lowland flooding downstream.
35 Flood stage. The boat ramp and lower parking lot at Riverside Bait and Tackle off Person Street are flooded. The stage and lower seating area at the Cape Fear amphitheater are flooded.
32 Action Stage. Banks begin to overflow.
If you're in Fayetteville be sure to see these 46 neighborhoods at risk of flooding also.
Goldsboro, NC
Here's the Neuse River: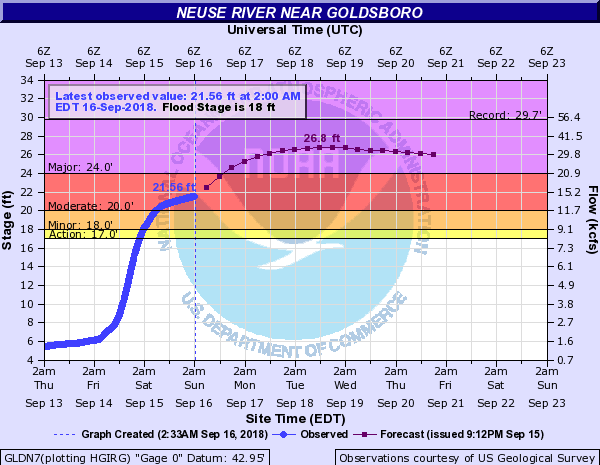 Burgaw, NC
This one is terrifying and it appears that there will be major flooding affecting lots of residential homes…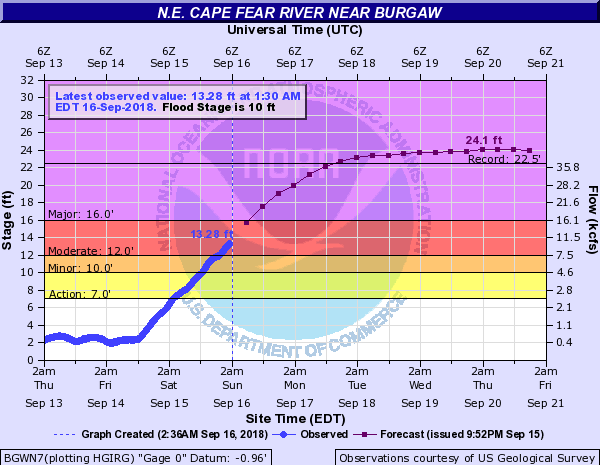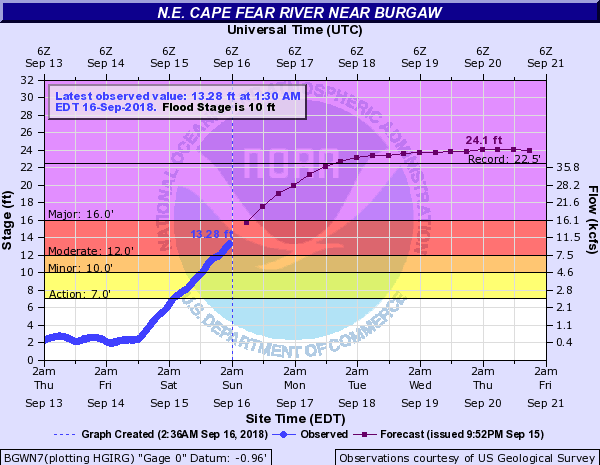 Here's what weather.gov says about these flood stages:
22.4 12 miles of Highway 53 are underwater,in some cases 7 feet deep, between the Northeast Cape Fear bridge and Maple Hill. All homes including 60 in River Bend, 20 to 25 in River Birch and 12 in the Alligator Lake subdivision are flooded. 20 to 30 homes in Holly Shelter estates are underwater. In the Sandy Bend subdivision, off Shaw Highway, 40 to 50 homes, which is half of the homes in the subdivision sustain flooding. Portions of Croomsbridge, Island Creek and White Stocking Roads are underwater.
16.5 White Stocking Road is closed and floodwaters begin to get into the homes in this area. Highway 53 is closed adjacent to the river. Stag Park Road has water 2 feet deep on it and becomes impassable.
16 Water begins to get into homes, including those that are elevated, in the River Birch and River Bend subdivisions. Floodwaters also get into homes on Croomsbridge Road.
15.25 The approaches to the bridge at Lanes Ferry on Highway 210 may be flooded. Much of White Stocking Road is closed. At the wildlife ramp on Shaw Highway, ramp is underwater and parking lot is half full of water.
14 Floodwaters cause portions of Shaw Highway to be closed between Carl Meeks Road and Lillington Lane. White Stocking Road is also closed from Chorley Road to Mack Williams Lane. Flooding worsens on Highways 210 and 53 but roads remain open.
13.5 Floodwaters begin to affect Highway 53, Highway 210, White Stocking Road, Shaw Highway and Holly Shelter Road. Roads are passable but have water on them.
12.5 Floodwaters cause roads to become impassable in the River Bend, River Birch and Alligator Lake subdivisions off Highway 53. These areas become isolated due to the floodwaters and some evacuations may be needed. In the Holly Shelter Estates subdivision, half of the area has water on the roads due to floodwaters. Approximately 12 homes on Old Maple Hill Road off Shaw Highway become isolated.
12 Flooding worsens in the River Bend, River Birch and Alligator Lake subdivisions off Highway 53 on the east bank of the river. Floodwaters continue to rise on Croomsbridge Road and Old Maple Hill Road. Holly Shelter Estates and the Sandy Bend subdivision begin to be affected.
11.5 Floodwaters begin to affect roads in Alligator Lake subdivision. Flooding worsens in the River Bend and River Birch subdivisions and along Croomsbridge Road and Old Maple Hill Road.
11 Floodwaters continue to rise and affect roads in the River Bend and River Birch subdivisions off Highway 53 along the east bank of the river. Portions of Croomsbridge Road and Old Maple Hill Road become impassable.
10.5 Flood waters cause minor flooding of Croomsbridge Road and Old Maple Hill Road. Some roads in River Bend and River Birch subdivsions become impassable.
10 Minor flooding of roads in the River Bend and River Birch subdivisions. Flooding of Croomsbridge Road begins west of the bridge over the river.
8 Water affects the lowest portions of River Bend Road and River Birch Road.
Other Rivers
Poking around, I could only find a handful of rivers which weren't going to flood. Other rivers which are going to flood include:
New River
Black River
Lockwood Folly River
Trent River
Towns / Cities:
Lumberton
Elizabethtown
Pollocksville
Jacksonville
Wilmington
This is just a partial list and I hope I am wrong:
I just wanted to spread the word on this to anyone not taking the flood potentials seriously. And even if it feels like Hurricane Florence is almost over, some of the real damage is STILL ON THE WAY. That said, I really have no idea what I'm doing. But, it sure doesn't look good at all.
Here's a great YouTube video which explains how to look at these charts, thanks to hurricanetrack.com: