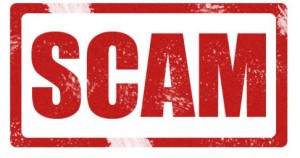 I purchased a new vehicle this week, and the old one went up for sale on Craigslist. I'm used to Internet scams but this one was pretty good.
Here's how it went down.
Vehicle History Report Scam
The "buyer" began a conversation and asked if the vehicle was available and about maintenance records. After I answered, they came up with another dumb question. Finally, on the third email, after I offered up a CarFax report, they asked me to visit USVehicleInsights.com.
Red flag.
Sine I work in Internet marketing I quickly noticed that USVehicleInsights.com redirects users to a link.safecart.com website with a unique identifier and then shoots me over to VinInsights.com.
I'm not sure if VinInsights.com is the scam or not or if the "marketer" is trying to make an affiliate commission on the $25 purchase.
Credit Card Theft?
After searching the web, I noticed this article from the BBB. Apparently, these fake sites are popping up in 2018. You go to the site, order your VIN report, and the thieves have your credit card information.
Trolling the Scammer
I kind of enjoy messing with scammers, so I went ahead and told "Michael Jones" that I purchased the report, but, I sold my vehicle before I could send him the report.
The scammer is going to be wondering why they didn't get their referral fee or what is wrong once they hear that I completed the purchase successfully and they made $0 on it. hehe
Legitimate Title Reports
VehicleHistory.GOV lists legitimate title history reporting websites on their site. Surprisingly, CarFax is not one of them, however, many title searches begin at 6 bucks.
Did you fall for this scam?
Don't worry! It happens to all of us and this one was pretty good. A lot of people only sell a car once in a great while. If you were scammed please let others know what happened in the comments section below.
I searched for sites using the identical text as VinInsights and found other sites which could be a scam as well (not sure) including vin-number-check.com and vin-check.net.