Do you have any counter-intuitive content on your website? This is often accomplished by putting up a resource that is the opposite of what you're selling, or information that makes your service obsolete.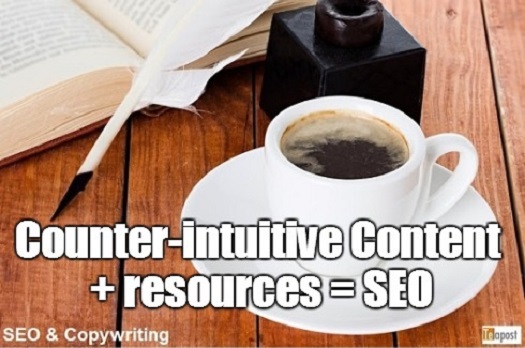 Why develop a resource like this?
Resources are unique, helpful, and great for SEO. When people arrive to your site and are informed they'll stick around longer and be more inclined to trust the site and purchase from it. One of my favorite websites is hotsauce.com. I am a fan of spicy and hot sauces. The website has thorough explanations and videos explaining the sauces. I buy all of my hot sauces here and tell lots of people about it and link to it all of the time. Another site I visit tells me precisely how to make competition style smoked ribs. The site also sells its own BBQ rub. I buy the rub all of the time. I owned an IT company for 12yrs and put up blog posts about how to remove viruses, where to buy laptop power cords, how to replace your screen- and- it led to calls. Lots of calls.
Natural Backlinks. Ah, the elusive natural backlink. How you build something that is supposed to happen naturally? You can't (really)! Build a resource and people will link to it. As links get older, they become more trusted. If you understand SEO 101, you know that (good, natural) links TO your site help it perform better in search. This makes you money.
Topical Authority. I just put a post recently on Topical Authority Domains. Adding content to your site like this makes it more topically relevant and authoritative. Read about topical authority domains here.
How do you create a resource like this?
If you are a criminal defense attorney, you could put up a thorough resource on how to defend yourself in small claims court without an attorney.
If you're a personal injury attorney, you could put up a resource explaining how to prove injury and negligence and file a lawsuit in your state.
Sound like a terrible idea? It's not. 99% of people are going to see this and call in. 1% will handle their own claim and it was probably too small of a claim for you to take on to begin with.
Photographers can put up "how to" videos. Auto repair shops can tell people how to do their own repairs, medical professionals can have resources on pain relief remedies. Real estate agents can tell people how to sell their own homes. This list could go on literally all day long.
Basic rules for your counter-intuitive resource:
Your resource must be unique.
Write your resource for the people using it, not for the search engines.
Add images to your resource.
This post was counter-intuitive.
This post is an example of a counter-intuitive article. For example, we create content for people that search engines want to put on the screen. Instead of trying to sell it, we're providing you with some basic, actionable tips on how you can do it yourself! Now if you aren't going to actually do it, but you'd like to expand your business and get better search rankings, contact us! We take SEO & creativity, mix it up, bake it, slap some icing on top and plop it onto your website. Some people call this SEO copywriting.