Angry. Sad. Flattered. These are some of the things I felt when one of my good clients who I create content for had their epic content stolen and duplicated. Then it happened 2 more times.
The latest offender did such a terrible job, they actually left my comments and URLs in the code to the site they stole it from. That was ok with me, as it meant issuing a DMCA would simply be that much easier.
If you are that jealous that the competition is outranking you, fight back with unique content. Don't just steal someone else's content!
What to do when your content is stolen.
We were nice at first. We called and the owner wouldn't speak to us. We wrote a certified letter to the business which they ignored. We waited a few weeks. This was really going above and beyond though; the thieves have a terrible reputation, receive nothing but negative feedback online, and have been the subject of multiple lawsuits. Getting them to play nice wasn't likely to happen since they are dirtbags, but at least we gave them the opportunity. The next step is to simply issue a DMCA notice to Google.
Issuing a DMCA:
Issuing a DMCA is fairly easy. There are various ways to report a DMCA violation. I use Google. You can find Google's Copyright Removal page here: Report alleged copyright infringement: Web Search. This page is fairly straightforward. You fill it out the requested information. I personally prefer to stick to the facts; the person reviewing the DMCA doesn't need to hear your life's story.
Next, you will get a little notice like this one emailed to you: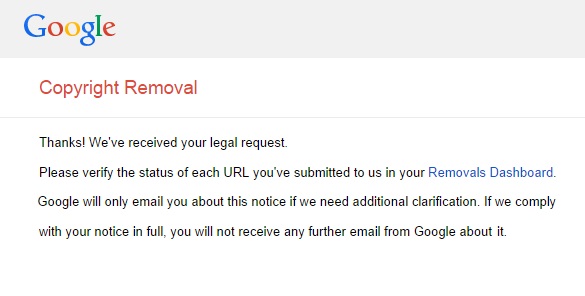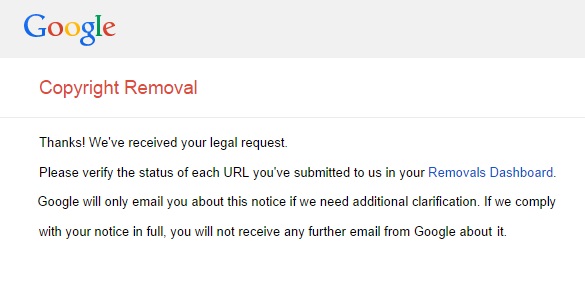 Next, after about 2 weeks, if you haven't heard back from Google, check SERPs. If all went well, you will notice that the stolen content is nowhere to be found. In this last case, the offender was actually ranking right beside my client's site in search, so determining they were hit was a piece of cake. A quick search revealed the offender had been completely removed from the search. At the bottom of the first page of search results was this notice:


This is a real life example. The offending business was literally kicked out of search around 60 days ago. As the time I am typing this article up, they have yet to even realize it and still have the stolen content up on their page. How long will it take them to notice? Time will tell.
Need help getting your content stolen?
If you are not creating unique content and showing up above your competitors in search then you likely do not have the problem of people trying to steal your content and desperately trying to outrank you. If you would like to rank in search feel free to read about our content services.