You could be the CEO of a Fortune 500 company, a small business, a partner at a law firm or someone who like to blog about cookies, but if you want your site to rank better in Google search you know that you need links.
15 years ago the quantity of links mattered but these days it is about the quality. Most people define quality as contextual relevance or at the very least getting a link from a major website with a high Alexa ranking, or as some would call it, a high Domain Authority. By powerful site I am referring to sites such as CNN, Entrepreneur, Forbes, HuffPo, etc.
The "correct" way to get links from major publications
Being in the business since the beginning of time and having the opportunity to help create content for a variety of sites, I have experienced the excitement of seeing content and client websites linked to from major publications on multiple occasions. The local government, college, banks, news stations, Wikipedia & CNN have all linked to content I've helped produce.
I've been in direct communication with some of the reporters and journalists who provide the links and I can assure you that they just want to grab the scoop, create their story and move on to the next one.
The "correct" way is useless to most people
With all this being said, it is very, very clear that Forbes isn't going to just magically link to your page called "Charlotte Plumbing Service 24/7 – We Drain Your Problems Away". But… Maybe you have a site that has some mediocre content on it somewhere. After all, just a link to any page on your site will make it all worthwhile…
Purchasing links on Forbes and other major publications
There are a few places you can go online to find these links for sale, however it is MUCH better if the people come to you. The vast majority of people publicly advertising their links for sale are total idiots. They'll either stick your link on the HuffPo contributor section (where all links are NoFollow) or they'll get you talking and attempt to sell you links from some random site like Medium or LinkedIn.
Over the years I have talked to a plethora of people who have to me trying to sell me links. While I practice white hat SEO here I may or may not have tested this out on a practice website.
I do not actively obtain these links but I have plenty of access to get content onto some of these websites:
Forbes
Entrepreneur
AdWeek
Huffington Post (HuffPo)
Inc
USA Today
Engadget
TheNextWeb
SEO people do it as well, sometimes right IN articles telling people they shouldn't purchase links. I mean, nobody would write for these places if they weren't able to link out, right? Moz, Marketing Land, Search Engine Land, Social Media Today, etc. Links are available there. If you can't buy them, you could just become a contributor. Plenty of contributors here and everywhere on the web use their author status to link out; heck it may be every site on the entire Internet! Who knows. I have little time to read much these days but I can tell you that this isn't unique to the SEO world by any means. If you are a food blogger, a coupon cutter, a cigar smoker, a chef, dog lover or a book reader there are industry related sites you can post on.
Will links from major publications help SEO?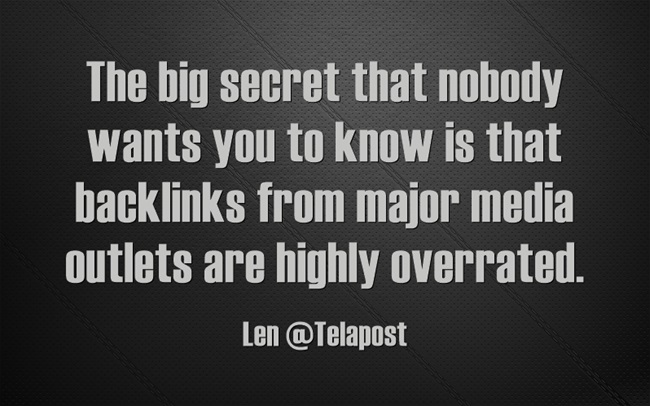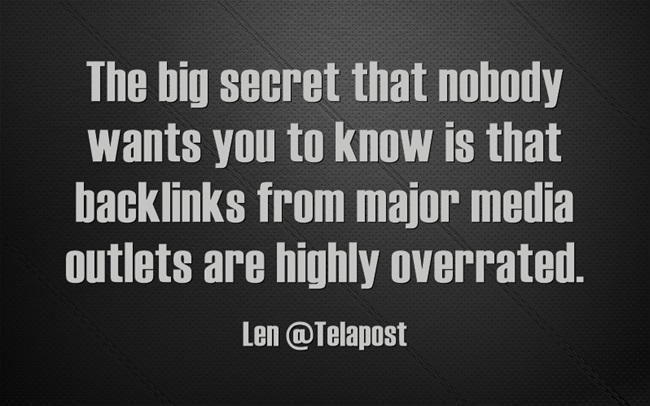 The big secret that nobody wants you to know is that backlinks from major media outlets are highly overrated.
As recently as 2016 I had an article get mentioned (naturally) on CNN and it just didn't help the site noticeably at all. Then again, this was an already fairly powerful site. The CNN article, depending on which part of CNN it gets to, gets duplicated all over the web, however, many news sites remove links before the content hits their site. So if you get a link on CNN you really get about 3,000 mentions and 40 backlinks. The unfortunate part about this is, most of the partner sites delete all of their content after a couple of months, and you really only end up with about 6 links.
Links from Forbes can indeed be helpful. But, if you naturally make it to Forbes, you're going to be mentioned about 25 other places as well. This can make legitimate mentions and backlinks impossible to gauge.
Indeed, I have no first hand experience in the purchasing of these links, however, as a consultant, I've seen clients purchase them and I really haven't seen that big of a boost from one link. I'm sure they ARE absolutely helpful if you're struggling to get decent links. Yes. For sure. But if you already operate a fairly powerful site, a link from Forbes isn't going to be a game changer for you. If you're battling with one other site and changing positions a few times a week and need to finish them off, sure a great link to your site may give you the edge you need.
Will links from major publications hurt SEO?
Probably not.
But they're supposed to: Links intended to manipulate a site's ranking in Google search results are considered a violation of Google's webmaster guidelines and may result in penalties known as manual actions (source: Google).
Google has also warned webmasters against purchasing links and using paid contributor posts as recently as 2017.
To buy a link on a major site, you usually go through a middle man. If you go through a middle man who actively advertises their services on the Internet, they are indeed leaving a huge, glaring footprint. Once in contact with one of these sellers, you can simply ask them for evidence of link placement and they will gladly provide you with details of their previous work. Simply click the link, look at the author's bio and go from there. Within minutes, you'll be able to see if they are indeed a contributor to the publication, where else they publish content and who is buying their links.
Side note: It can be quite interesting to see who is actively purchasing links.
I highly doubt that any Google employee is going to sit around and look up all of this stuff and try to figure out a way to penalize sites which were linked FROM a particular author. Besides, careful authors link out all over the place, not just to their client, that is, assuming they have a clue.
So, no, it "probably" won't hurt SEO. But, if you are suddenly mentioned by Techcrunch and Forbes for really bizarre things and the author wasn't linking to anything of value, people like me are going to notice. No, we're not going to "out" you but if I notice there's a (tiny) chance the spam team at a search engine could notice. So, there is indeed risk. But then again I think they've already devalued these links.
Should publishers NoFollow links?
This is a little off topic here but I predict more and more publishers will NoFollow their outbound links and more and more of them lose trust in their authors and contributors and editors are forced to chase topics which get traffic. I make the argument here that journalists should link out if it benefits the user, and I also believe that linking to sources helps SEO. While there are indeed things such as outbound link penalties these mostly affect crummy blogs and those old article websites which nobody uses any longer.
Alternatives to publisher backlinks
Here are a couple of safe options:
If you slow down and look around there is almost always a way to pay the publication directly to get content onto their site. You may have to dig, email or call them and inquire about advertising packages and listen to a salesperson's pitch about print advertising and all sorts of other junk, but you can indeed buy a spot at many major publications.
Or, you could always produce something people want to link to, something which benefits the user to come visit. You may have to think outside the box for this, or even purchase a $15,000 graphic, or be the first to break some important news. But there are still indeed ways to naturally get links on the Internet.
Recap
I consult with a couple of publishers and I strongly encourage them to keep on linking out but to beware of low quality content and authors who want to write for them with the sole purpose of linking out. Even the best authors are going to link to their own websites and friend's sites when relevant, like it or not. Outbound links can enhance content and provide value to the user.
With the right connections, you can get mentioned in content on powerful websites which may help your website rank better in search engines. There is always risk involved and shopping around on Fiverr is not the way to minimize said risk. That said, most sites with backlinks from sites like USA Today have historically been highly unlikely to ever get penalized, especially if it nobody can tell if the link was paid for or not. For about $2000 you can obtain one of these links. Sellers who charge less are going to do a bad job.
As always, having linkworthy content on your site will not only get you mentioned by 1 major publication, it will often result in a variety of links, and natural, contextual links are something you can be proud of and expect to boost your site for many years to come.