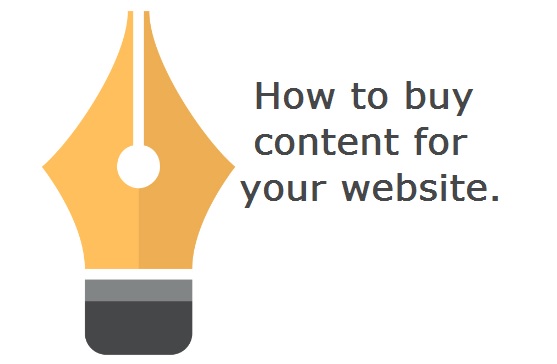 2015 is here and more and more people are discovering that they need unique content for their website. (If you're still not sure feel free to read Why your website needs content).
Not everyone has great content ideas, and for many successful professionals, they are going to be much better off hiring someone to create their content, as, they'll get better results from a pro and/or their time is simply more valuable spent elsewhere.
You get what you pay for, sort of
You can go onto Craigslist and find someone who will make you 200 word articles for $10/pc and these are going to be absolutely useless. Of course, this type of content is useless.
There are actually people out there who make a living off of content who insist your articles should be 650 words long. Let me reassure you that these people have absolutely ZERO clue as to what they are talking about. There is no magic number but I have assisted in the design and implementation of 70,000 word pieces of content that receive well over 1,000 hits on a slow day.
Then there are even marketing companies with 20 employees who insist you need content, then when you buy it, they stick an article onto your website that hey just put on a bunch of other sites. In fact, on real estate marketing company that sells crummy $299 websites has placed the same content onto over 750 blogs at a time before. This is so frustrating for me to witness. I feel that business owners are the heartbeat of America; when people harm them either out of ignorance or with malicious intent it just drives me nuts. I once built my own store and operated it 12 years and I know the blood and sweat that goes into these things.
Prices are all over the place. The best content writers I have met in my life are not working for X cents per word, scraping up leads of of Craigslist, working for an article marketing company or a web design company, they are self employed, and, in extremely high demand.
How to buy content
As for your content purchase, there are a multitude of websites out there that sell content. All you need to do is Google "buy content" and they will start showing up. I have seen what all of the various companies produce, so, I will go ahead and fill you in below.
Free content. Free is a four letter word starting with F. 'Nuf said.
Freelance websites. The quality of content coming from these sites typically ranges from worthless to poor, with the occasional "meh". That said, there are a lot of freelance websites that will be happy to sell you content. Some of these sites connect you with the freelancer of your choice. Other freelance sites simply let you place an order, choose the quality, and 48hrs later your content shows up.
Marketing companies. I have run into 2 marketing companies here in Raleigh, NC who say all the right stuff. They primarily exist to build websites, so I'm not sure why they don't just stick with that. Listening to them, you'd know the value of unique content. But, when they deliver it, it sucks. One of these companies specializes in putting the exact same content onto as many sites as possible. The next company actually outsources all content development offshore where English is not even a primary language. Of course, anyone who needs a website is going to need content for their website. Instead of working with great content writers they instead tarnish the industry with a plethora of offerings from copywriting, SEO, PPC, web design, social media, direct mail, you name it. Sorry, if you're trying to be good at everything, chances are you're good at nothing. I crossed that bridge 20yrs ago.
Reputable Copywriters. These are hands down the best people to get content from. Shortly on this site I will be putting up examples of truly epic content that earns links. I clear well over 1 million visits a year on my blogs. It helps that I am great at a handful of things. I also dive head first into new topics. Often the best blog posts cover very novice questions that customers are searching for. Great content is the only form of advertising many companies need. The unfortunate issue here is that you have to dig to find some of these people. That, or google your niche and see who shows up. A great copywriter also has SEO expertise and ranks for the service that they offer. They also likely have hundreds of articles on their website that you can read, although, some of us type very fast and cover a wide variety or strange topics. You can always ask to see examples of their work. I try to write something each and every day that ranks on the front page of Google. After obtaining page 1 results thousands and thousands of times you tend to get a very intimate feel of how search works.