Black Friday was quite possibly the biggest missed digital marketing opportunity for Brands in 2017. Google Posts is completely free to use, yet almost no companies used it. Here is an example of Cabella's using Google Posts which obviously showed tens of thousands, if not hundreds of thousands of people their Black Friday specials right when people were looking to go Black Friday shopping: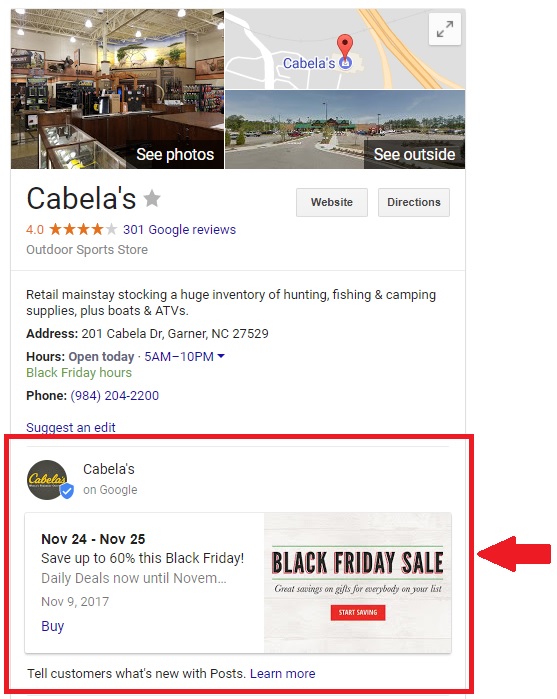 Once you've clicked on the "Google Post", you're greeted with this shareable post: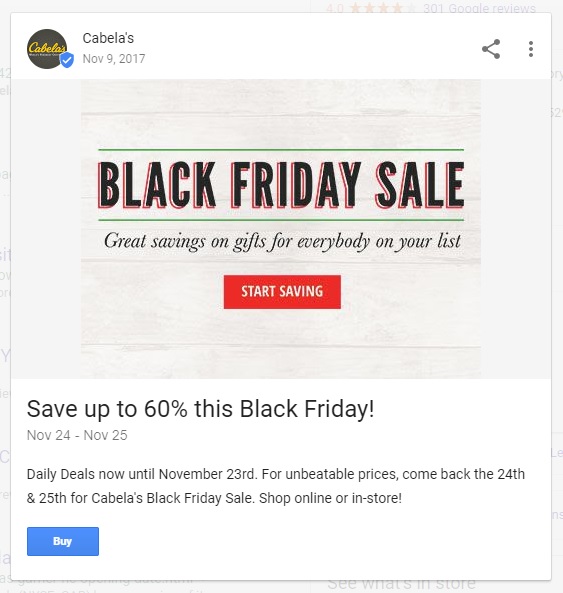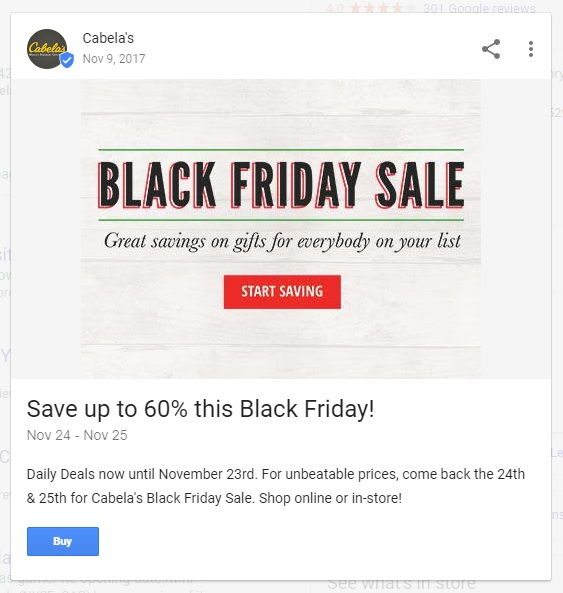 And if you click on that, you're taken right to the Cabella's site showing all of the Black Friday deals, encouraging people to come in who have credit cards burning a hole in their pocket.
This is big news for outdoors and sports retailers; in the triangle area of North Carolina, we have Bass Pro, Dick's, Cabella's and many more competing. In fact, Gander Mountain just shut its doors recently.
Asleep at the wheel
On my phone today popped up a question someone near me asked about a place I had recently been – Lowe's Home Improvement. They wanted to know what time Lowe's opened on Black Friday. This question was asked via Google My Business Questions and Answers: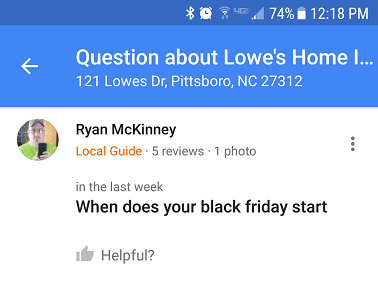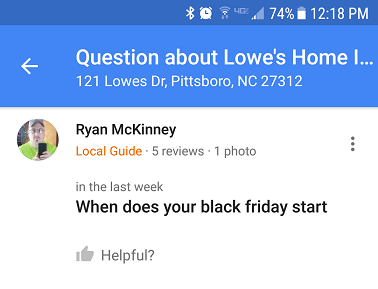 I thought to myself they probably opened at some ridiculous hour like 6AM. But, I had to Google it.
Special hours weren't even set. :/
But I was shocked that Lowe's wasn't using Google Posts.
My first thought was to see how Home Depot was doing it right, so I checked the local Home Depot. No Posts there, either!
Then I checked Best Buy. Then Bass Pro Shops. Then Walmart. Then Target. No Google Posts!!!
At this point I began looking for SOMEONE who was using Google Posts. Eventually I found Cabella's.
Google Posts may never take off
I get it. Google Posts may disappear next year. But it is an interesting, neat, free feature. Why not use it? Anyone can see posts when they look for your business name.
When people are googling your Brand Name on Black Friday, they are looking to spend money. Where are brands advertising? On dead trees? lol!
Google Posts do work
I personally set up Google Posts for a small, local retailer with one location that has 2 employees. Even this small business was able to get hundreds of views to their Google Post every day.
Brands who had Black Friday deals that did not utilize Google Posts missed out on tens of thousands of views per location.
I don't blame them though. Most big brands have lackluster digital marketing agencies working for them. If I were the CEO I would go right down the list of everyone responsible for this huge mistake and begin cutting the fat.