One of the very first things that a client usually asks me is "What is the best website for SEO?" 99% of the time, my answer is WordPress. Below is why.
Using WordPress isn't going to magically make your site rank #1 for your desired key phrase, and it isn't perfect for every situation, but it has several very clear advantages. Many sources say that this platform runs approximately 20% of the Internet's websites and that WordPress is on track to be powering around 300 million websites by 2015. Regardless, it is very widely used, well supported, easy to backup and move, and there are lots of themes, skins and plugins available for it.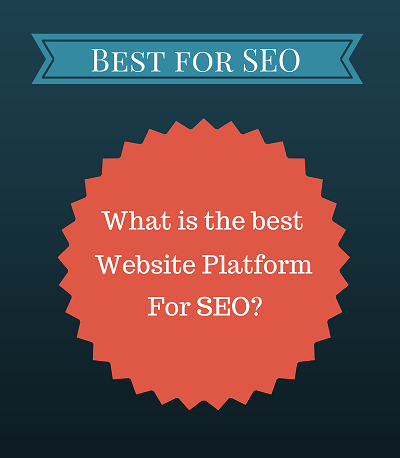 WordPress is the best website platform for on site SEO because:
URL structure. Instead of having a URL that looks like this www.telapost.com/blahblah.php+yadda.$45.67=yikes you can have a URL that looks like this www.telapost.com/seo.
Titles & Meta. Out of the box, or better yet with "Yoast's SEO plugin", you can easily control page and post titles and meta descriptions.
Sitemaps. Yoast's plugin also has a great XML Sitemap generator which can be easily submitted to Webmaster Tools if desired.
Pagespeed. Pagespeed is a very important ranking factor. WordPress in combination with an optimized theme, fast hosting and a page caching plugin can have your site loading in under 2 seconds.
And more: Rich snippets, structured data markup, hCard data, image optimization, follow attributes. Pagination, responsive design support, eCommerce plugins, canonical link elements, responsive sliders, tags, categories- this list goes on and is quite large.
Note: It is important to note that some themes actually break some of the great things about WordPress. Not all themes are created equally. Some are very bloated, load slow, and actually take away certain functionality.
Other reasons WordPress is a great website platform for SEO:
Content. You can easily add content to WordPress. Having an active blog is vital to your SEO strategy. Without this, forget about it. It is amazing to me that in 2014 we still have content management systems that stink at managing content. Unfortunately, content does not come with your site, you have to write it yourself, or hire someone competent to develop it for you. If you're not sure why this is important please read why your website needs content.
Social sharing. There are many great social sharing plugins, my favorite being Shareaholic.
Plugins. Want your posts automatically tweeted to your audience? An RSS feed that just "works"? WordPress is easily the best website platform for this.
Do you need a WordPress site and SEO?
Search engine optimization can be defined a multitude of ways. Here it usually involves a unique content strategy, a responsive WordPress site, and SEO services. If you would like to get the phone ringing at your business and need assistance making this happen please feel free to contact us here. Of course, WordPress is not always the best platform to use for your specific needs but usually, it is.
A few of our favorite plugins:
Yoast WordPress SEO. If you ask me, this is mandatory.
Akismet. If you intend on accepting comments Akismet will drastically reduce the amount of spam you'll have to filter. Some people prefer other types of commenting systems that integrate into social media platforms.
All in One Rich Snippets. Comes in handy.
Duplicator. Great for backing up and/or moving a site.
Contact Form 7. A good contact form.
Fancier Author Box. If you would like a nice bio at the bottom of your page or to use Google Authorship, take a look at this plugin. There are several similar plugins available.
Shareaholic. Nice social sharing plugin.
WP Super Cache. There are multiple caching plugins available. This one works best on the server where we host client websites.
iThemes Security. This is an outstanding plugin to harden your WordPress installation. As WP gains popularity among webmasters it also becomes a bigger target for the spammers and bad guys. Securing your site and making a regular backup is mandatory.