Many auto repair shops struggle with their business presence. Gear heads just want to fix cars, and when the business grows, they have plenty of other headaches to deal with. I know this for a fact as many of my friends own auto repair businesses and I have shopped around for many specialty services provided by mechanics.
Shopping for auto repair SEO services
Trying to find SEO for auto repair shops is a nightmare. You can talk to 20 different SEO morons and get 20 different answers. Most act like this SEO salesman, selling some sort of "mystery oil". One of my very close friends had a heart attack at age 42 from running his auto repair shop; I understand that the LAST thing a shop owner needs is an SEO company trying to take a piece of their pie. That said, my services are not always cheap but they are however cost effective or else I wouldn't offer them.
Larger auto shop and chains could greatly benefit from content. Great content helps websites achieve good SEO. I've personally owned an electronics repair company in the past myself- it was extremely successful specifically due to my content. I sold that business in 2012 to help other people with theirs.
These days I work with major law firms and extremely competitive niches where some people have monthly advertising budgets of $50k or more each month. Auto repair is a niche that I personally classify as "easy". This is because I enjoy it, and, most businesses do not realize they need content; they concentrate on one key phrase. While ranking for one key phrase such as "auto repair Raleigh NC" is nice and does make the phone ring, absolutely nothing compares to ranking for hundreds of phrases. Not everyone is going to type in "Auto Repair". You would probably be amazed to discover how many people are in fact looking for something completely different, such as vehicle service, transmission service, place to fix my car, truck repair, alignment services, brake repair shop, muffler replacement, exhaust repair, car maintenance, wheel alignment, oil changes, etc.
Google Local results for auto repair shops in 2015
In the past businesses near the center of a city showed up well in Google Local Search (aka map results). Then, there were other variables, such as the amount of reviews. Now, there is a strong correlation for businesses that rank organically and who shows up in Local Search results.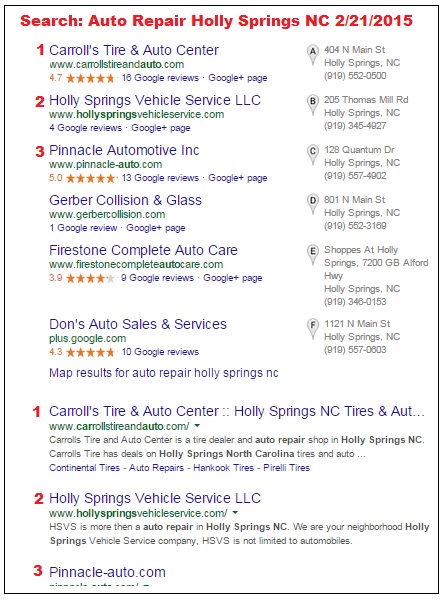 As you can see Carroll's Tire& Auto, Holly Springs Vehicle Service, and Pinnacle Auto are ranking in both organic and local results in the A, B, and C position.
I know for a fact that there are many good mechanics in Holly Springs North Carolina who do not show up in this list. Some of them are at oil change facilities who have made the mistake of concentrating on "oil change" instead of hitting on ranking for several different phrases. They are leaving money on the table.
The solution
Ranking doesn't just magically happen when content is developed. Content must be structured a certain way. Some pages may need to be longer than others. Content must be typed in a way that is going to not only show up in search but also get people in the door. Sometimes auto repair shops need a little SEO as well to get them off of the ground. The best website for these businesses, if they are independent, is usually WordPress, which has great on-site SEO. Getting a few quality links in a creative manner and then switching your efforts over to content development is typically all that is needed.
If you need someone that is an SEO and content expert who understands auto repair please feel free to reach out and send me an email. I am not a mechanic but I am however handy enough install parts with the assistance of some friends. Here is one of my creations that actually started on the first time I turned the key on it. This is my 1992 Pontiac Firebird. It was converted from TBI to a Holley 650 (yes I know TPI is more efficient). The Holley is sitting on a Weiand Stealth intake on a fresh SBC 383 which is hooked up to a custom 700R4. It has a custom wiring harness, mandrel bent Hooker exhaust, and is a fun vehicle. I can't seem to locate a pic of the motor but rest assured everything under the hood is Chevy Orange and Chrome.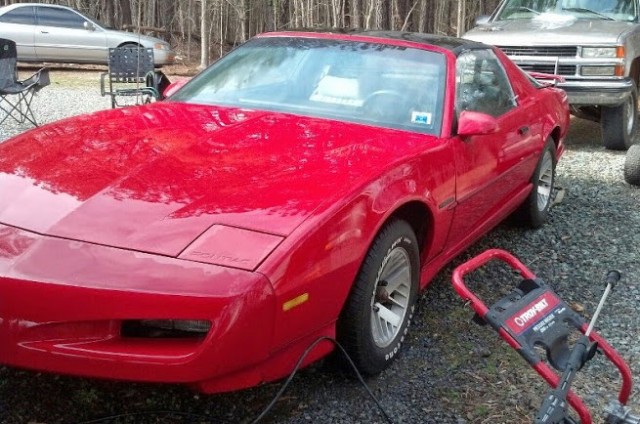 If you want to do your own SEO then the recipe should be to generate content that people and search engines love on your WordPress website. Interview customers for your YouTube channel, figure out some creative ways to get people to love you on Yelp, and please, go write some content!