Starting in October 2018, Google My Business got hit hard with spam in the personal injury attorney niche. I was made aware of this by one of the law firms that I work with. After they told me they had spam in the local pack, I began looking at other cities. Sure enough, the same exact spam is in several cities all across the United States.
In fact, there are two separate outbreaks taking place and they're caused by two specific lead gen companies.
I have tracked down both lead gen companies and spoken to attorneys at law firms who are in these cities who use the lead gen companies and attorneys who are competing by playing by the rules.
Below I'll share some screenshots, observations and what Google isn't doing about it.
Lead gen company #1 is focusing on keyword spamming Google My Business
The first company who has been spamming since sometime in 2018 focuses on keywords which generate "local packs" aka maps results in Google Local search or in Google Maps.
Here are some of their spam listings for "motorcycle accident lawyer". What's funny about this is that really not a whole lot of people type this keyword in. Is it enough to make money on? Probably. That's because this lead gen company sells… leads..
Anyways, here's the screenshot: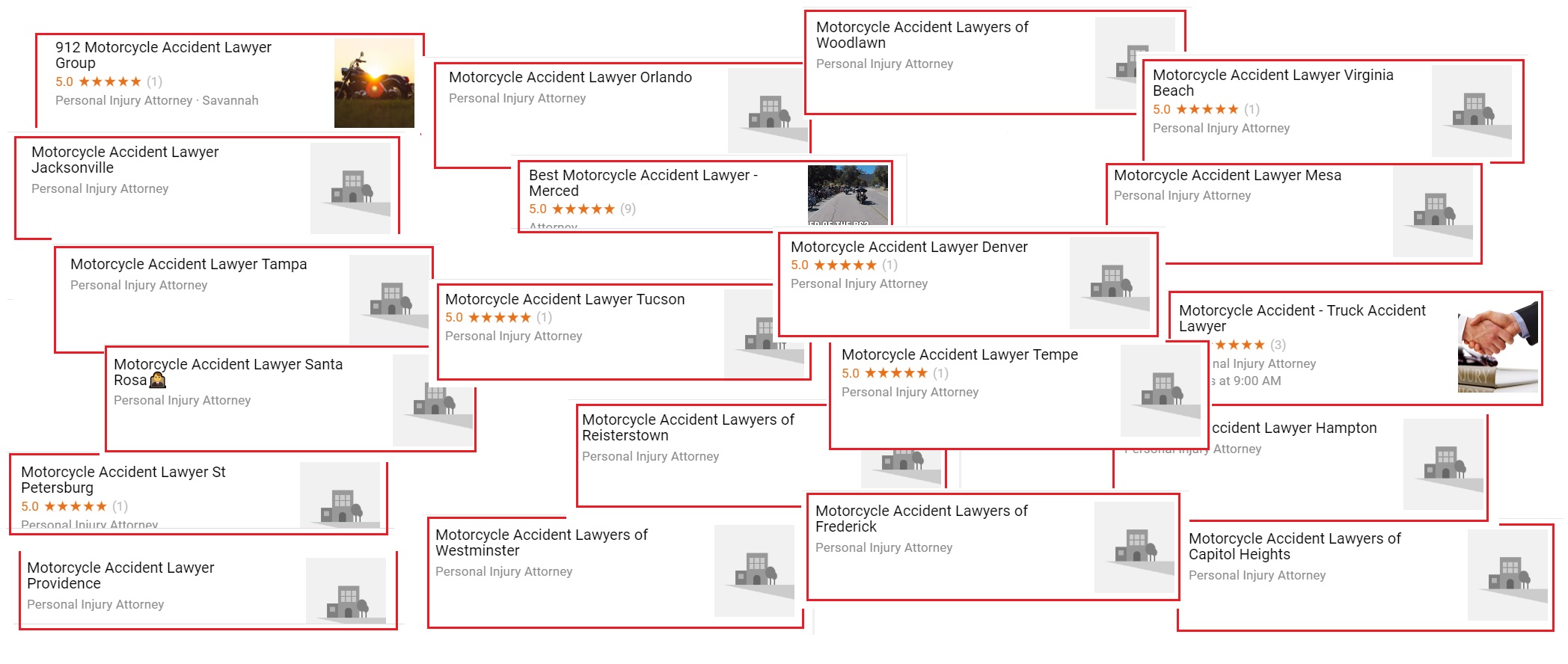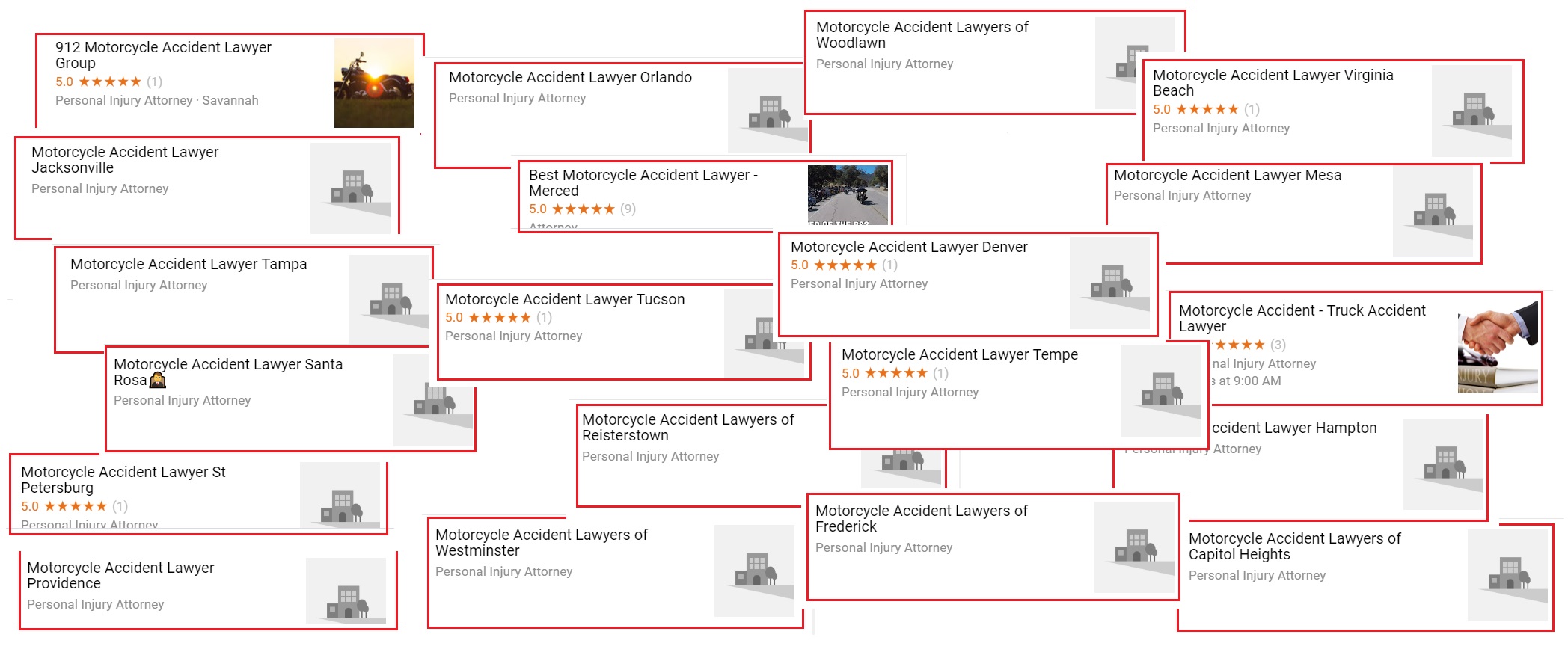 Of course, they're also blasting Google My Business with "truck accident lawyer" terms: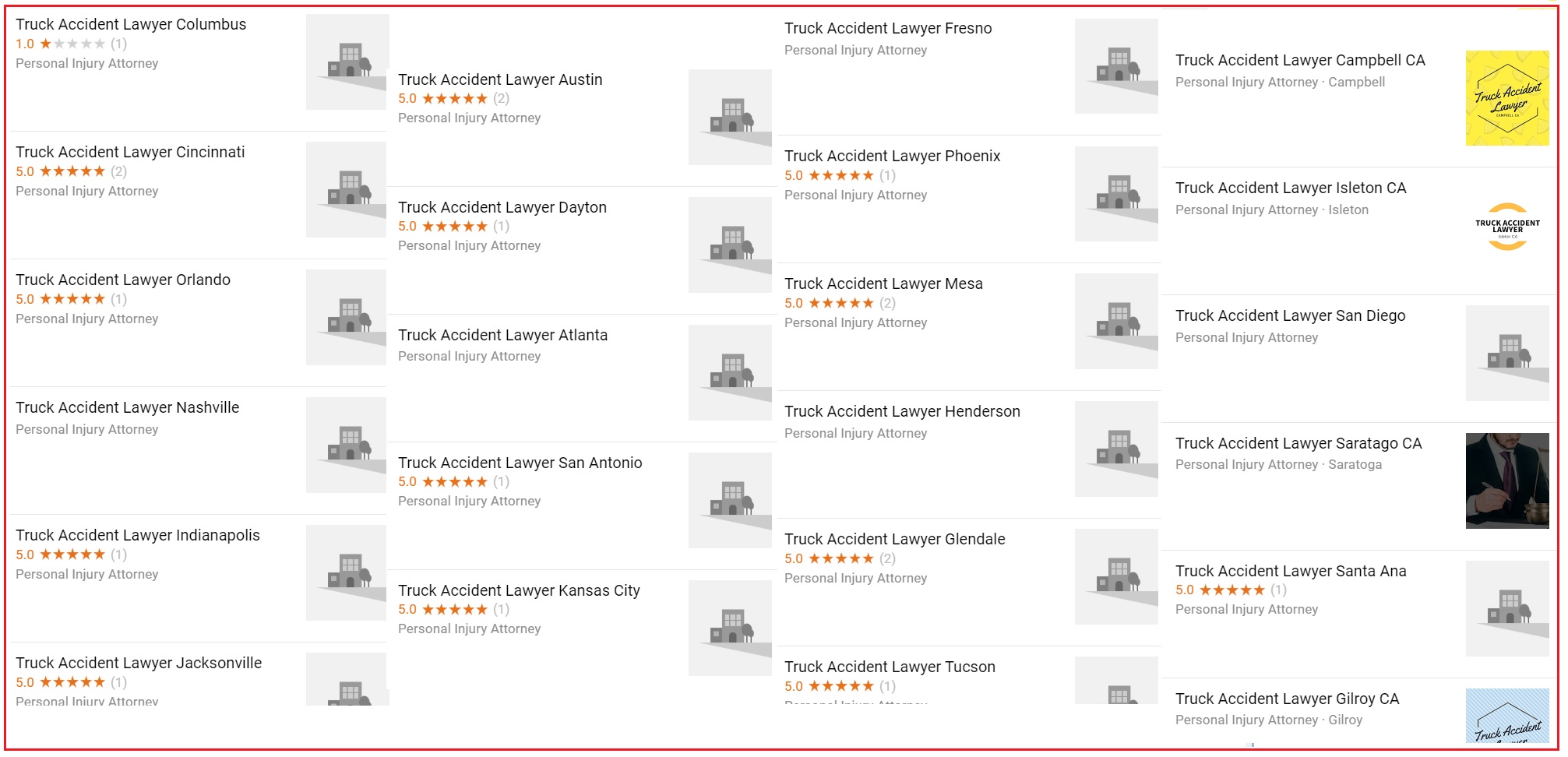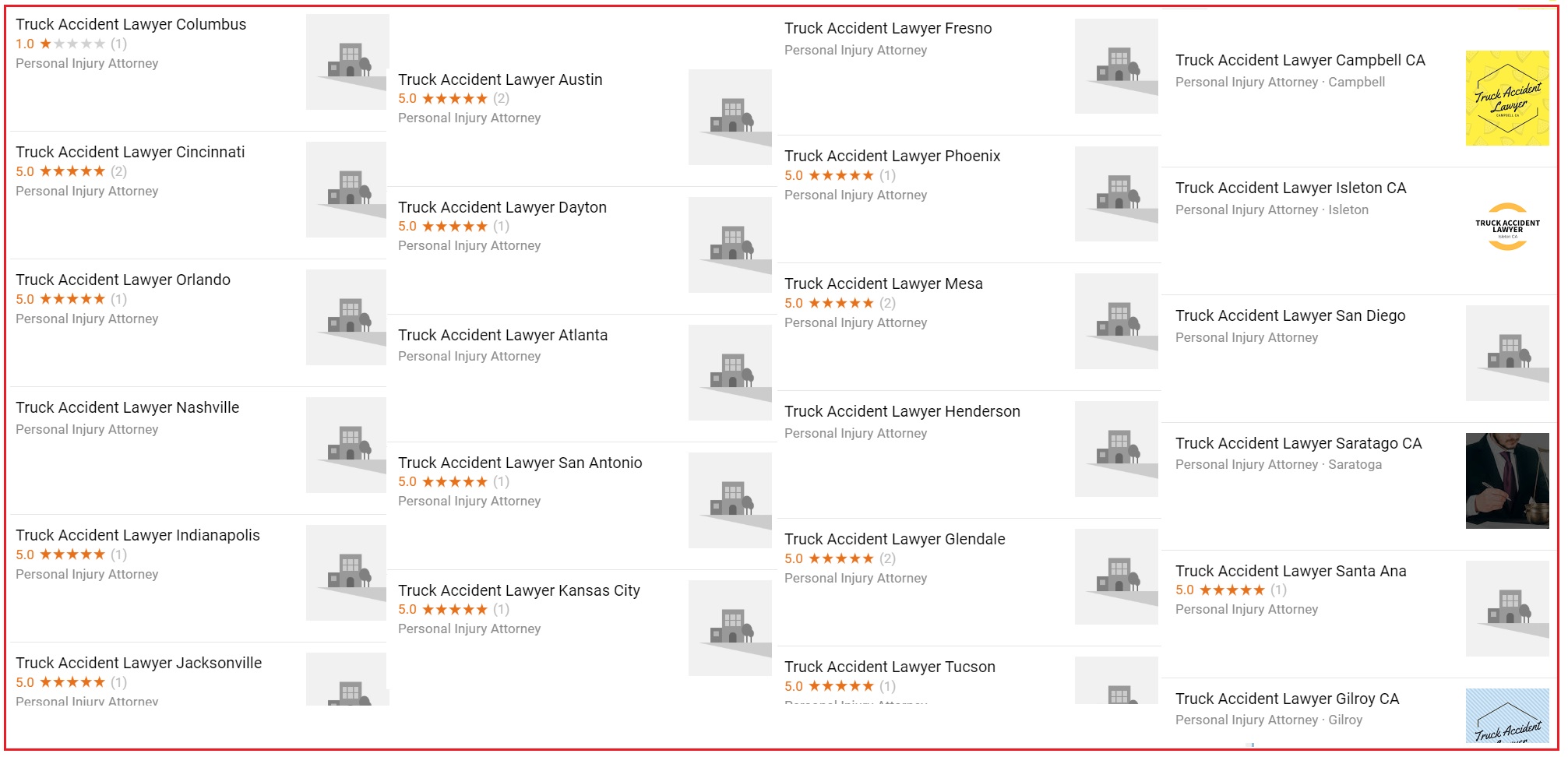 Here's another term they are abusing – "wrongful death lawyer". They even use emojis in this one. I've written before about attorneys using emojis in GMB before. Screenshot: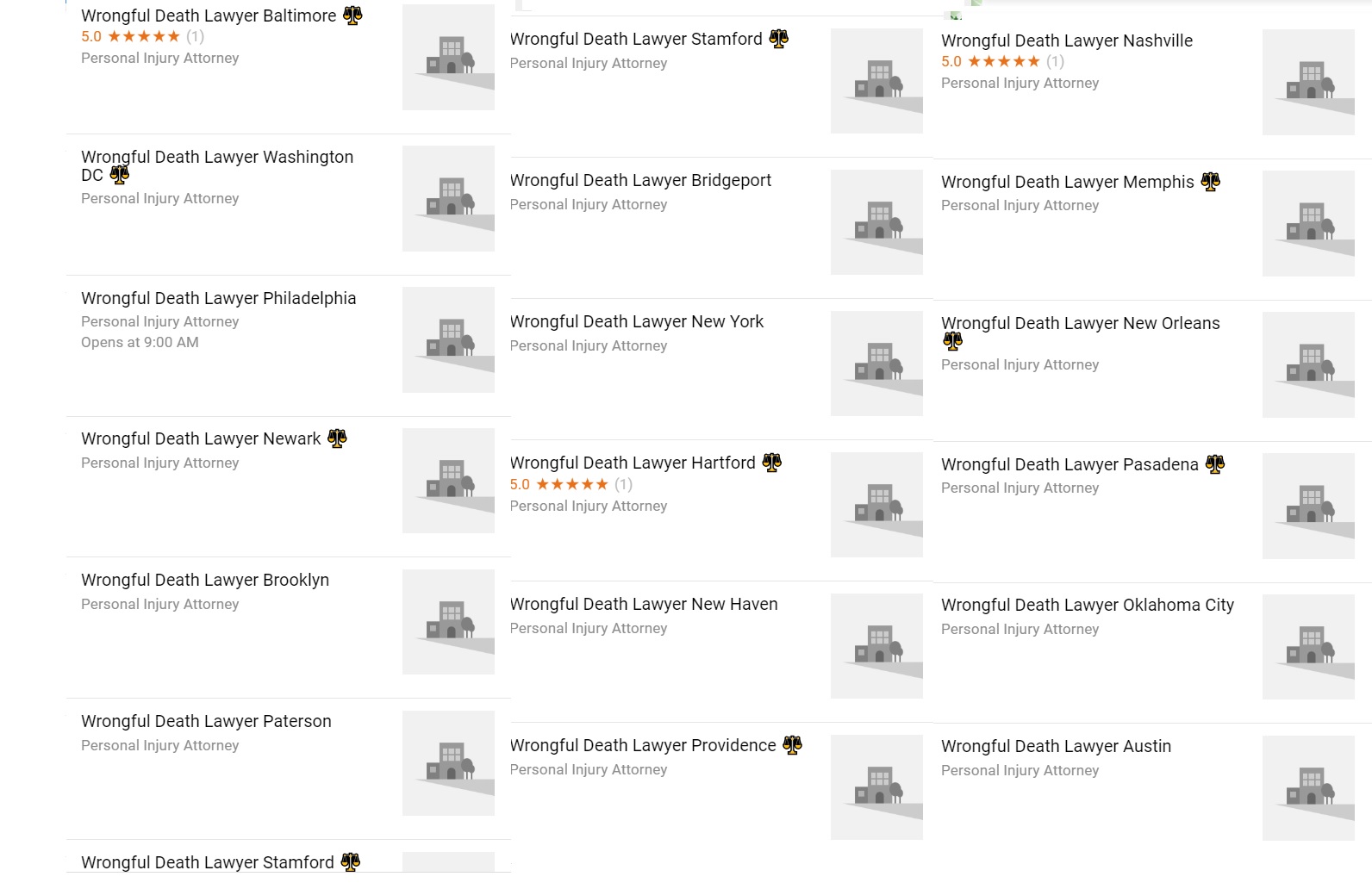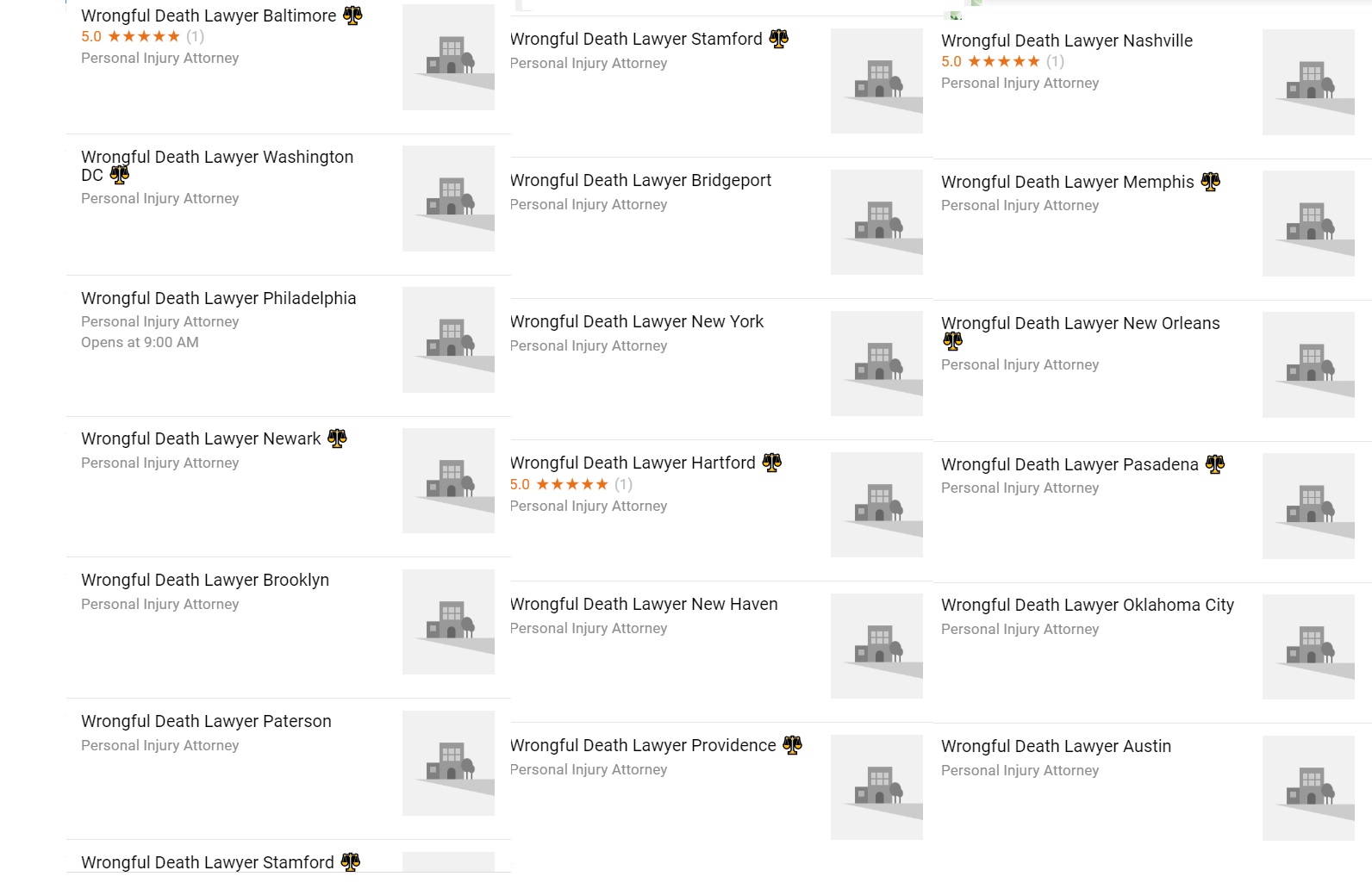 I am not going to name this company in this article (yet) but I will say that they're called ***legal.com. If you work at Google and would like this information just let me know. I am not big on "outing" people but this is just stupid.
Lead gen company #2 is focusing on keyword spamming "car accident lawyer":
So the next company, ***cal.com, sells leads to attorneys also. This company charges per call. It sounds good to the attorney since they pay nothing unless someone calls. This company also blocks telephone calls with restricted numbers. Fortunately, I have several phones to play with. 🙂
Anyways, the car accident lawyer spam looks like this – full of gibberish such as "Castle car accident lawyer" or "Light" or "Signal":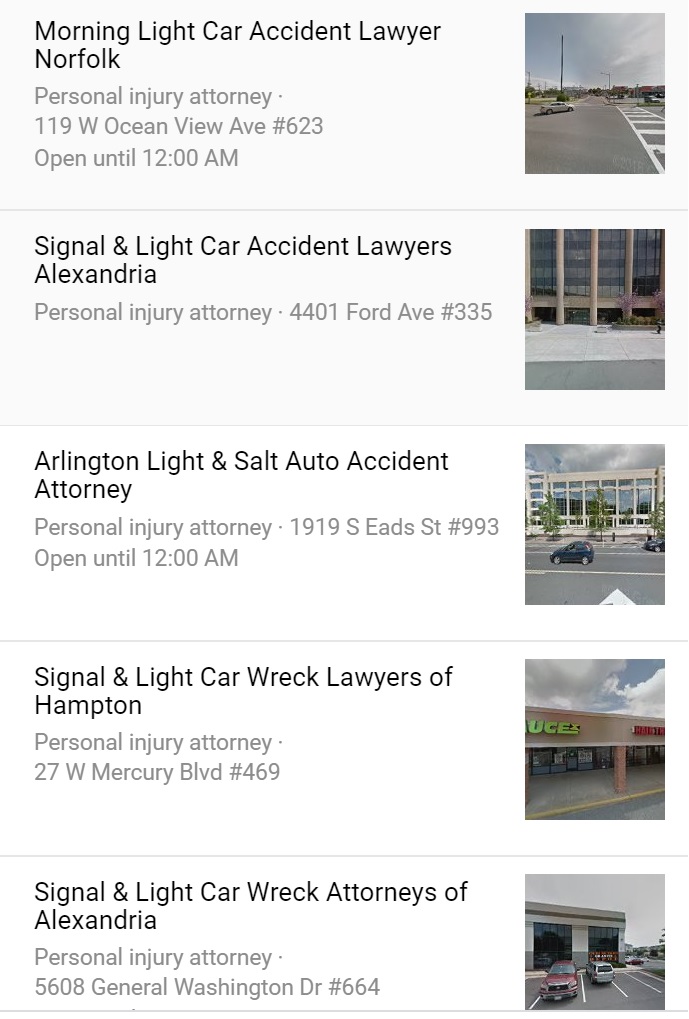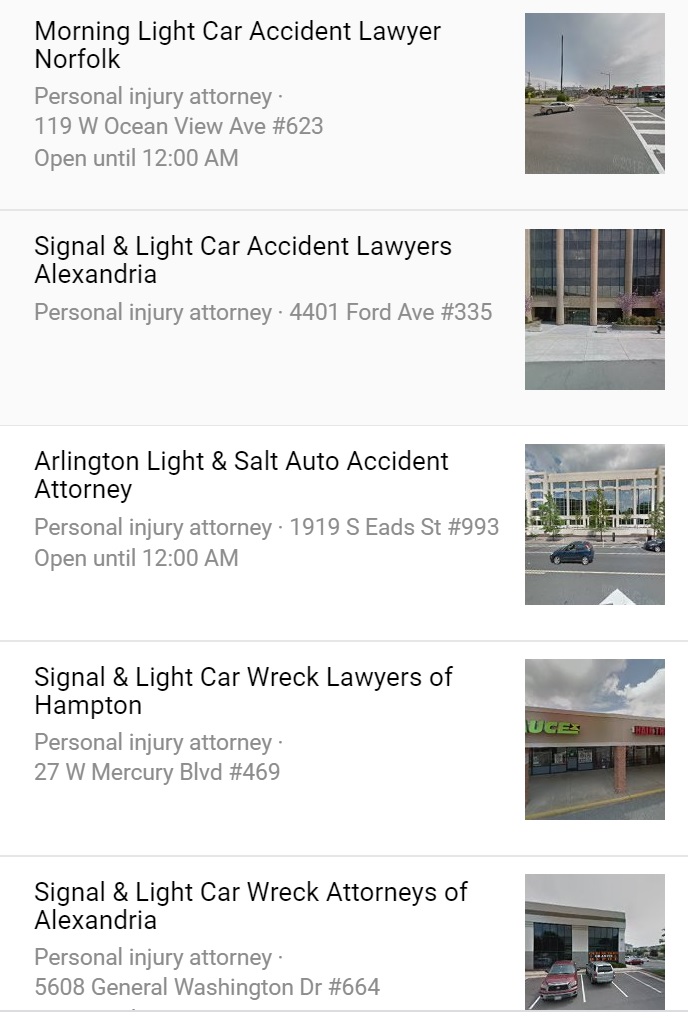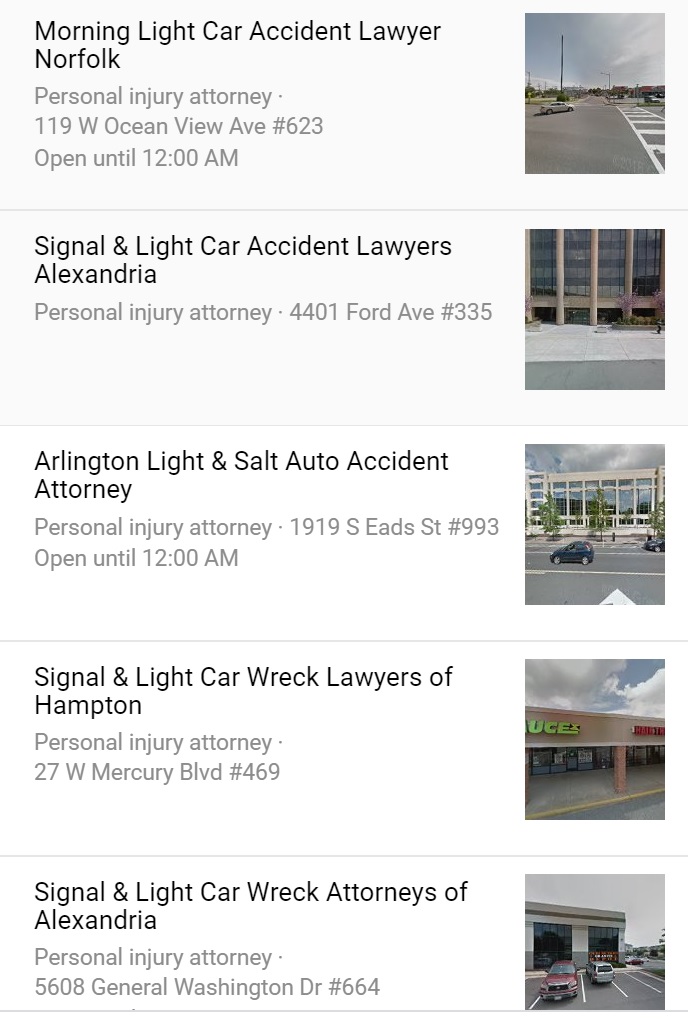 The addresses are always bogus with all of these spam listings.
Google My Business  isn't deleting the edits. 🙁
There's more than one way to ask Google My Business to delete listings, but the easiest method (and the one Google recommends to the general public) is to flag the listing as either spam or "doesn't exist".
Back on March 6, 2019, I sent in a blast to be edited just to see what would happen. Unfortunately, the GMB listings are live at the time of this article. Even with my 19 year old Google account which has left over 200+ reviews and only made real edits, Google still doesn't trust me! lol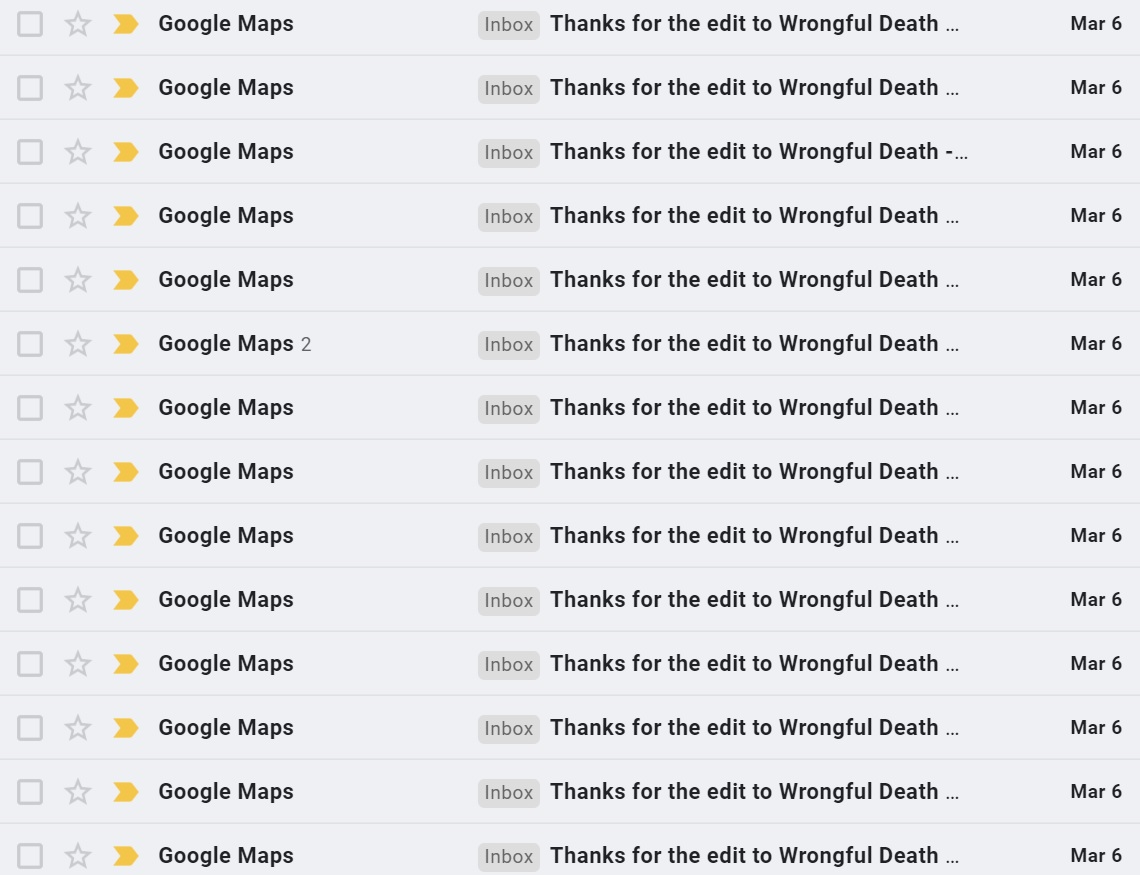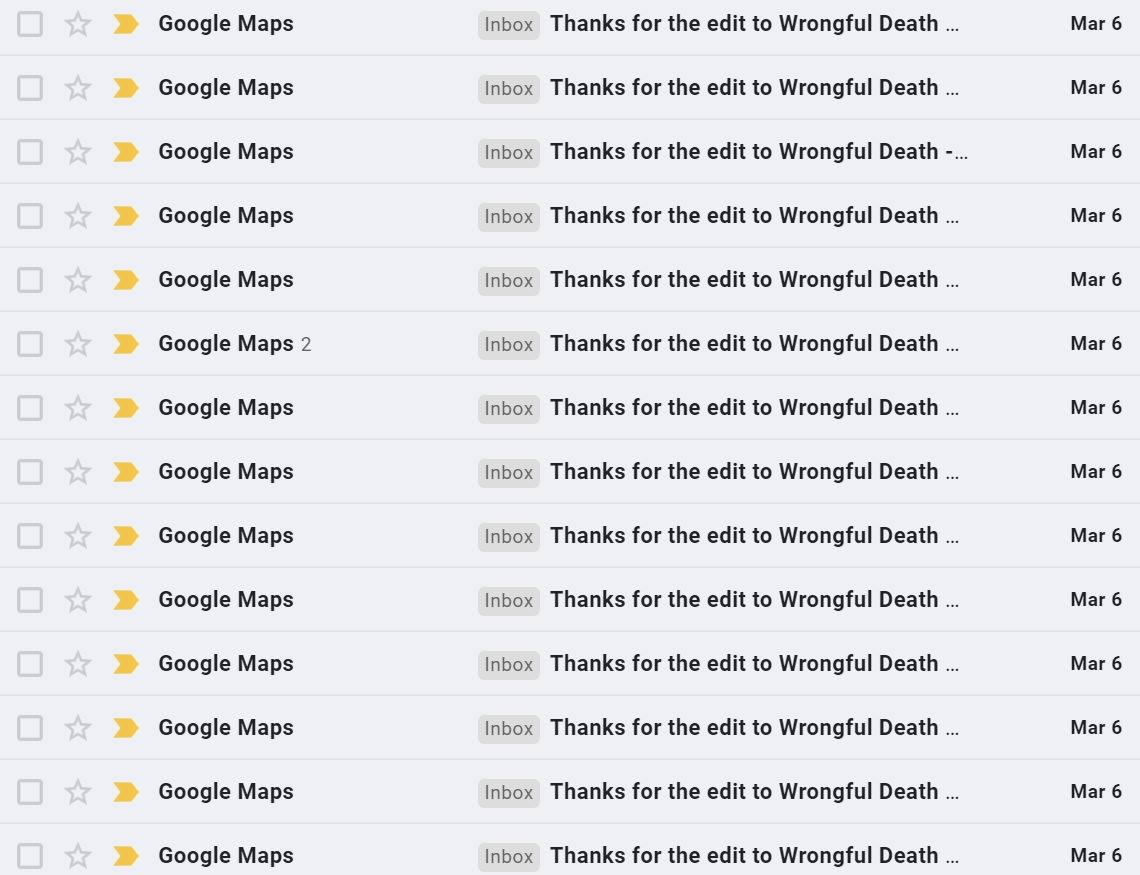 As you can see – I have been reporting these for 6 months now, but the team at GMB is so out of it I argues with them for months about this one single listing: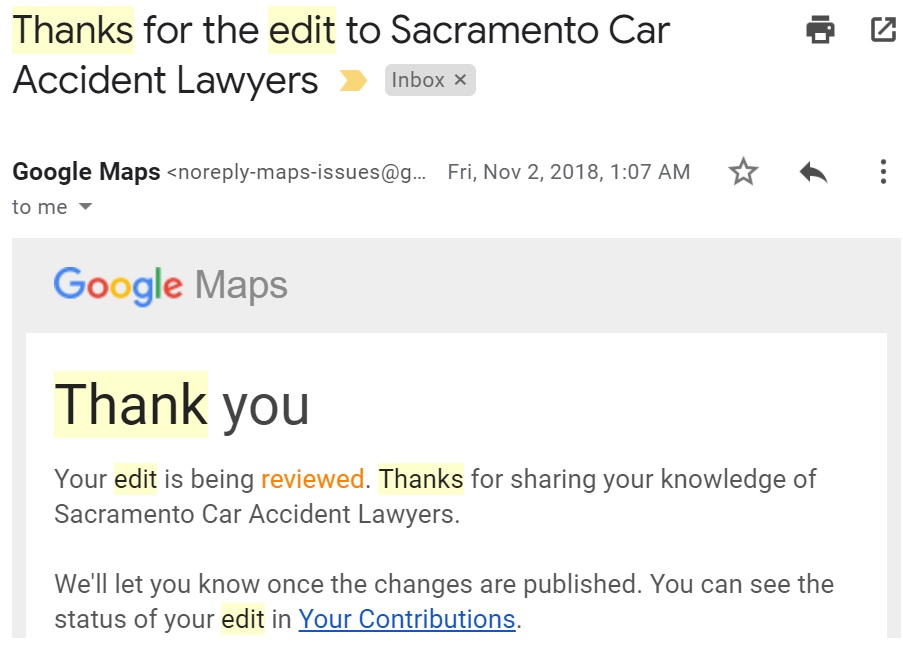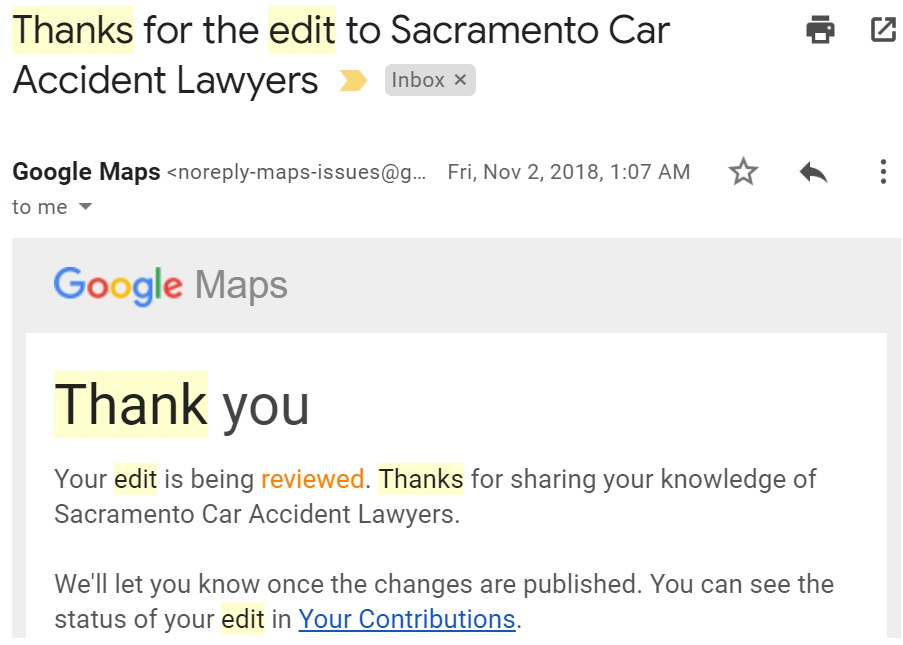 In fact, they took so many months to remove the one listing (for lead gen spam company #1) that lead gen spam company #2 went ahead and created new listings! I actually told GMB they were incentivizing spammers to spam before this happened:
What can be done?
With this amount of spam, someone is going to have to take action soon.
With so many good SEOs and "Local Guides" willing to police this and report the listings, if GMB were properly staffed they'd be able to delete the listings.
This is not a problem at Yelp.
Personally, if this were my company, I'd be on employees to fix this immediately, or, in some cases, this definitely merits firing.
There's just no excuse to let 2 little companies get away with this.
For some home service based companies (locksmiths, HVAC, plumbers) it's become a pay to play local pack. I do not think that is fair, especially since there are literally hundreds of people willing to police this, and only two companies spamming it.
But, Go0gle My Business has became a big old dumpster fire lately – companies are running rampant getting fake reviews. Even these fake listings have fake reviews!
Recap
I have personally verified 2 companies are spamming up attorney's local search results.
Google is ignoring everyone who is turning the spam in and leaving it live.
What happens next?