April 2018 has been a crazy month, at least for weather. It's still snowing in the northeast. It's bone dry in the south central part of the country. Oklahoma has no tornadoes. Here in North Carolina, I just planted my big, epic garden today, weeks behind when I'd normally start it. I'm still waiting for the ocean to warm up; the sea temperature should be 70 by now but it's 61 and the fishing is terrible. Although I did manage to catch a nice Speckled Trout on a river near the ocean.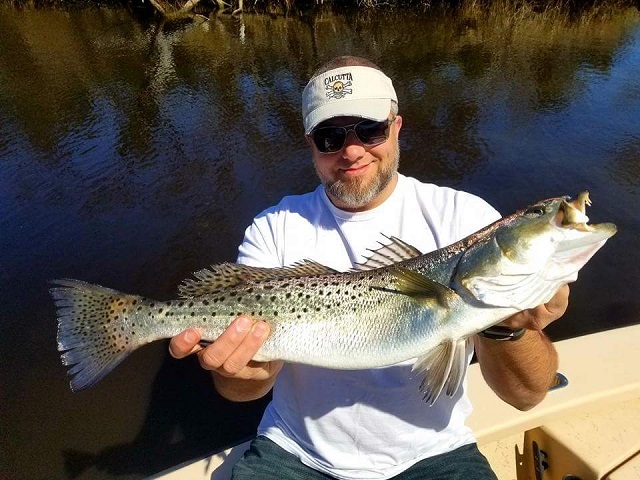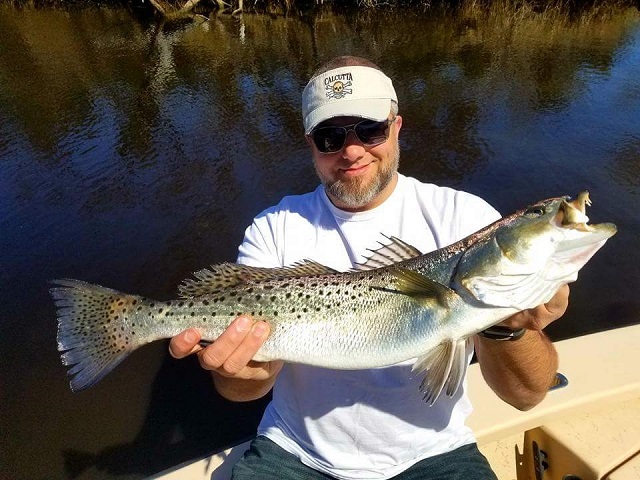 This week, things brightened up a little when a couple of my side project websites received quite a surge of traffic. I was surprised to see them on page 1. I knew they'd get there, but they both popped up the same day. Was there a Google update?
I logged in to Google Analytics and saw some swings, then I went on over to Rankranger, my favorite place to track search engine volatility, and yes, it was confirmed, there was indeed a Google update.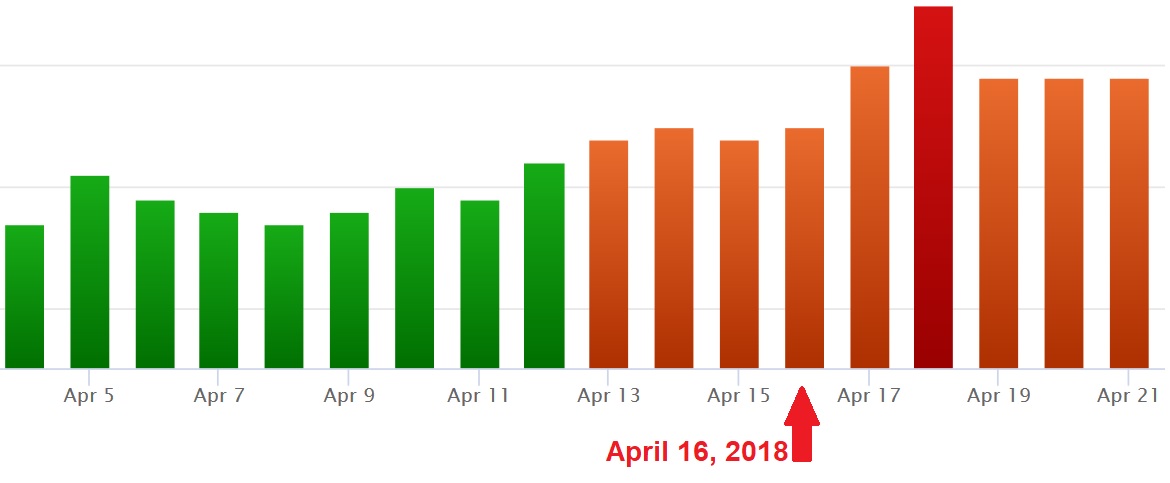 April 2018 Google Core Algorithm Update
I don't think this tweak merits a name, however, if I were to name the March 2018 algorithm update I'd call it the Google "When the heck Will Winter End?!" Update.
Key dates most people will see movement in their rankings / traffic would be April 16, April 17, April 18 & April 19. However, it is worth noting that websites in different geographic regions and even in different niches see the affects of an algo change at different times.
On April 20, 2018, Google commented on the update in a statement about them working to improve search results for users and to keep on creating great content. They stated the rollout occurred April 16th. (Their rollouts may affect US sites 48hrs later).
Google's comment is vague, but correct. As I've said here for many years, Google wants to deliver the highest quality results possible to their users. That's because if they continue to deliver good results, people will keep using them, and they'll keep making money. That said, webmasters should focus on quality.
This was a "quality" update.
A few things I know for sure:
Some of the sites affected by the March 2018 Google Algorithm Change were again impacted by the April "quality" update. Some websites lost rankings and traffic, others gained rankings and traffic. Some sites which already lost or gained lost or gained even more!
Websites displaying rich snippets and review stars were impacted yet again (some positively, some negatively).
Backlinks were definitely a factor in this last algorithm change.
Unfortunately, many spammy sites maintained or even increased their position in search.
I do hope that Google keeps refining their algorithm and rolling these out frequently. I remember back in about '92, there were about 50 sites and no search engines. Back then, people evaluated site quality. I can't imagine trying to get an algorithm to do it all, especially with the tremendous number of new pages hitting the web daily.
Identifying site quality
Google uses many factors to attempt to identify site quality. Two big quality factors include the content on a site (even old content), and, of course, the backlinks. There is much more to evaluating "site quality" than these two factors which I'll cover in an upcoming article in the near future. There are just a ton of variables here – think: what makes a bank's website a quality site?  What makes an electronic review site a quality site?
I will say that most people who reach out to me who have been negatively impacted by a quality algorithm had poor backlinks, or annoying popups, poor ad placement, a slow site and/or just a bad user experience.
Update: April 25 and April 26 Algorithm Change
At this point I'm not sure if it makes sense to try and make heads or tails of all of these updates. But I do know that some sites impacted March 9, 2018 or on April 18 are seeing swings again on April 24, April 25 or April 26, and I also know that both of those updates were related to "site quality". I am seeing some rankings changes reversed. Unfortunately, I am still seeing many spammy sites doing quite well in search results, too.
As always, here's a screenshot from RankRanger which shows the most recent change. Note that the April 25/26 change affected even more sites than the April 18 change.


Were you impacted by one of the April 2018 Google Algorithm Changes?
If you noticed and increase or decrease in rankings or with your featured snippets appearing in search engine results pages (SERPs), please feel free to comment below.