Here is the screen that people are getting when they can't check out: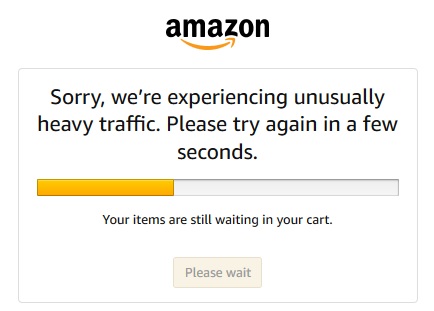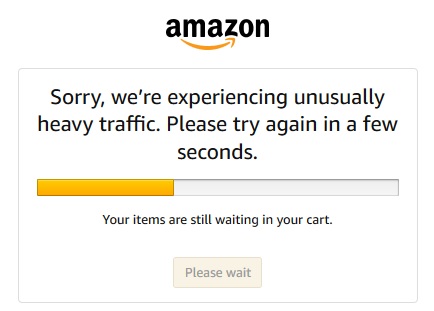 I have been waiting quite some time for PrimeDay to get here to pick up some deals on Amazon. 3PM Eastern, July 16, 2018 finally arrived. I went over to Amazon to find the deal I couldn't live without. It was the Instapot. Unfortunately, the Instapot has now sold out. 🙁
This TV is a good deal though:
This too shall pass. Just give it a few.
I'm sure this is short lived and I have confidence in Amazon. The only reason users can't checkout is due to extreme demand. Amazon has some of the best computer servers in the world.
#PrimeDayFail 2018?
#PrimeDayFail is a popular hashtag and I'm sure several people are ready to pounce on this. However, I think this year's Prime Day is going to be excellent. In 2015, there were some deals which just weren't cool, such as silicon spoon rests, an item I didn't know existed.
Here's what mobile users are seeing:
Feel free to comment below!
I love Amazon and obviously many other people do, too. If you have any comments about this temporary issue please feel free to comment below.