According to the CDC, the flu season picks up in October. Of course, this varies around the United States due to location, and of course the strain of the flu. In North Carolina, over the last 3 years,  influenza has been most prevalent from October to May, as seen below, image courtesy of flu.nc.gov.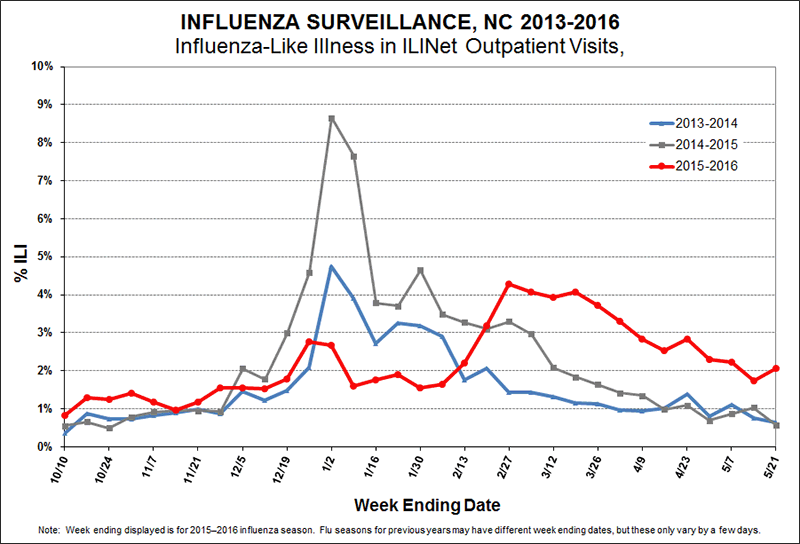 Is the flu here in North Carolina in September?
While no influenza diagnostic test was done, a doctor told a sick family member today that they believe they had the flu.
Unfortunately, I have been unable to find out anything about the flu coming to NC in September this year online. Is it just not online, or is the flu not here yet? It is September 12 2016, and this person has been ill since around September 3. They frequent the Cary and Apex NC areas, just West of Raleigh, although has recently been to Pittsboro, Durham and Chapel Hill.
The CDC offers a current US Flu Activity Map, but, it was last updated May 2016.
On the CDC's FluView page, it does show some sort of uptick in flu illness. "Week 35" is the last recorded dot on the chart and is the week ending September 3 2016.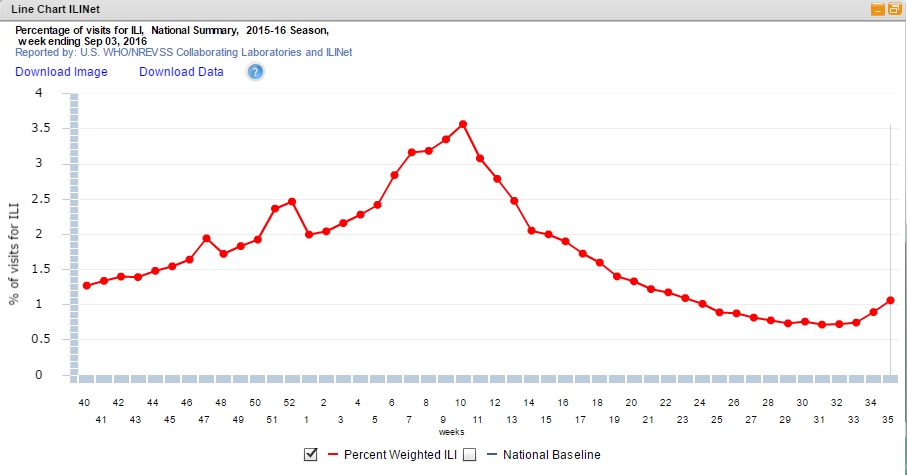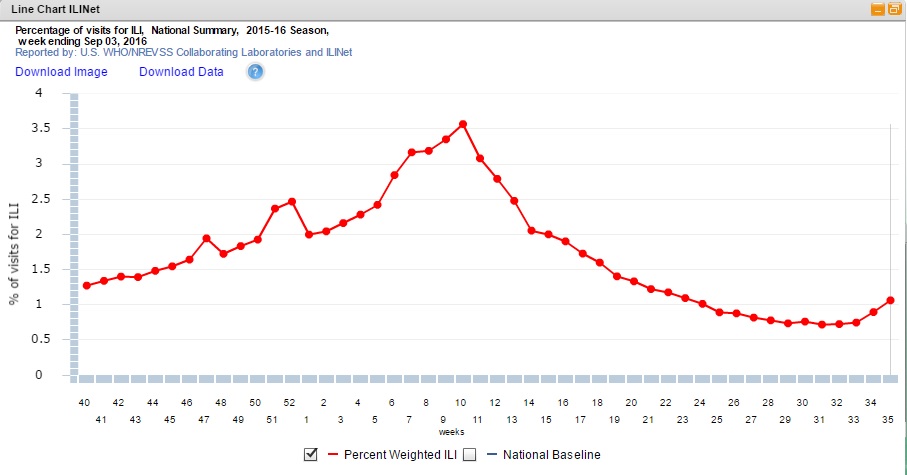 2016 – 2017 Flu Symptoms
Since the CDC and other government websites haven't listed any 2016-2017 specific symptoms just yet it is tough to say what those symptoms will be. I can say the person I know "with the flu" in mid 30s, has a mild fever just under 100, is fatigued, tired, runny nose, and a mild cough.
According to the CDC, flu symptoms may include:
A 100oF or higher fever or feeling feverish (not everyone with the flu has a fever)
A cough and/or sore throat
A runny or stuffy nose
Headaches and/or body aches
Chills
Fatigue
Nausea, vomiting, and/or diarrhea (most common in children)
Do you have the flu?
Do you think you have the flu? I want to hear from you! Please comment below if you are in North Carolina or beyond and are experiencing flu like symptoms. I only found some news online about the flu hitting some college students in Texas and someone in Arkansas complaining on Twitter about possibly having the flu.