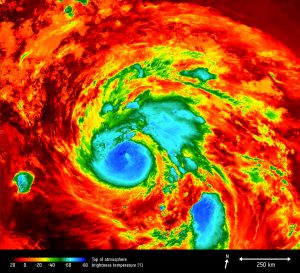 Hurricane Katrina hit New Orleans in 2005, but it took until 2016 to finally uphold a jury verdict that found State Farm Fire and Casualty Co. guilty of fraud. The nation's largest property and casualty insurer was accused of misclassifying wind damage as flood damage in order to shift the duty to indemnify Katrina's victims over to the federal government. Before Katrina, the insurer issued both flood and homeowners insurance policies, but the flood policies were backed by the federal government. After Katrina, State Farm was found to have instructed its adjusters and engineers to falsely classify wind damage as flood damage. That misclassification operated to shift the duty to indemnify flood victims over to the federal government's National Flood Insurance Program while saving State Farm at least $500 million.
The Rigsby girls
Cori and Kerri Rigsby are sisters. Both of them were adjusters for an independent contractor of State Farm. They blew the whistle on the insurance company pursuant to the federal False Claims Act that imposes civil liability on anybody who knowingly makes "a false or fraudulent claim for payment or approval" to the federal government. The ruling by the U.S. Supreme Court affirmed a Mississippi verdict that found that the sisters were wrongly ordered to classify wind damage as flood damage in order to shift the duty to indemnify Katrina victims onto the government.
The accusations
As per the allegations of a misclassification scheme, some of the accusations surrounding State Farm's conduct included:
Wrongfully classifying wind claims in order to have the government to pay for flood claims
Pressuring "independent" engineers to make findings that home damage was caused by floods
Concealing material facts and findings about wind damage
Affirmed
In holding for the Rigsby sisters, the lower court fined State Farm $750,000 and awarded $2.6 of legal fees and more than $303,000 in costs associated with the lawsuit. The sisters share 30 percent of the fine. The case brought by the sisters gave rise to another lawsuit wherein the State of Mississippi is seeking to recover more than $500 million from State Farm on allegations of insurance fraud. Mississippi claims that State Farm illegally shifted Hurricane Katrina losses onto the state's Homeowner Assistance Program that paid thousands of homeowners for losses that they were not insured for.
In the context of Hurricane Harvey, Texas law allows homeowners penalty interest of 18 percent should an insurer be found to be underpaying or delaying claims payments. That law changes on September 1, 2017. Homeowners will be required to follow certain prerequisites prior to filing their lawsuits, and the penalty has been reduced to about 10 percent. They've been encouraged by attorneys to file their property damage claims before the change takes effect. With winds of up to 130 mph and rains not seen in 1,000 years, the U.S. Department of Homeland Security reports that damage estimates are expected to reach a minimum of $30 billion. Given the ruling in favor of the Rigsby sisters coupled with the potential exposure faced by State Farm in the lawsuit filed by Mississippi, insurers are forewarned of the possible consequences of misclassifying damage.
Chris is a retired courtroom attorney with over 30 years of experience. He primarily writes on legal topics involving personal injury, criminal defense, insurance, real estate and probate law. Given his professional background, he also writes on health, medical and substance abuse issues.